Trees felled after Ramorum disease found in Argyll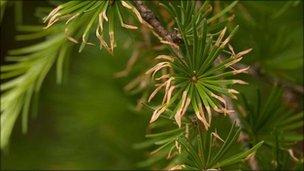 Hundreds of trees are being felled at a forestry plantation in Argyll after a deadly infection was found in woodland.
Ramorum disease has infected Japanese larch trees over 1.25 hectares (3.1 acres) on the Craignish peninsula.
The infection, caused by the fungus-like pathogen Phytophthora ramorum (P. ramorum), has previously been detected in plants and shrubs in Scotland.
The Forestry Commission said this was the first time it has been found in trees here.
P. ramorum was first detected in Britain in 2002. Usually, trees only became infected if they stood close to heavily infected Rhododendron ponticum plants.
Last year the disease was found to have killed extensive areas of Japanese larch trees in forestry plantations in south-west England.
This year, woodland in Wales, Northern Ireland and the Republic of Ireland were also affected.
Dr Bob McIntosh, director of Forestry Commission Scotland, said it was "a real blow" to have identified ramorum disease in Scotland.
"Although the area of infected trees appears to be relatively small, it is still is of real concern, so all the trees must be felled to try to minimise the risk of the disease spreading," he said.
"P. ramorum produces reproductive spores very heavily on Japanese larch, and the best scientific advice to prevent the disease spreading is to fell the trees to kill the living tissue on which the organism depends.
"I therefore urge all owners of larch trees to inspect their trees regularly for signs of decline or poor health, particularly next spring when they produce new needles, and to contact us if they suspect they might have ramorum disease."
The commission said the most vulnerable areas were in the west of Scotland as the disease thrives in wetter climates.
It can be spread in mists, watercourses, air currents and water splash, on boots, vehicle tyres and equipment, and by the movement of infected plants.
The symptoms on Japanese larch trees include wilting shoot tips and needles turning black and falling prematurely, and cankers that bleed resin can appear on the branches and upper trunk.
Ramorum disease of larch is more difficult to identify in winter as larch trees shed their needles in the autumn, although tell-tale resin bleeds can still be visible on the trunks.
Related Internet Links
The BBC is not responsible for the content of external sites.