Court told Tommy Sheridan 'denied sex club visit'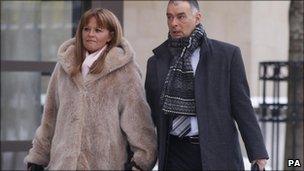 The Tommy Sheridan perjury trial has heard the former MSP did not admit visiting a sex club at a Scottish Socialist Party (SSP) special meeting.
Rosemary Byrne, 62, told the High Court in Glasgow that said Mr Sheridan said the allegations were "untrue" at an SSP executive meeting in November 2004.
She also said the gathering turned into almost a "kangaroo court" once he left.
Mr Sheridan and his wife, Gail, deny lying at his successful defamation case against the News of the World in 2006.
Mr Sheridan won £200,000 when he took the newspaper to court after it printed allegations that he had committed adultery and visited a swingers' club.
The SSP leader and his wife, both 46, were charged with perjury following a police investigation.
Mrs Byrne, a retired teacher, told the court that she was asked to attend the gathering by party colleague Alan McCombes to discuss allegations surrounding Mr Sheridan, adding: "I think he said they were of a sexual nature."
Asked by Mr Sheridan, who is representing himself, what happened at the meeting, she said: "You denied that you had attended a sex club, you said that the allegations that had been floating around were untrue.
"One thing that you did say was that you had had an affair with Anvar Khan after you had come out of prison. I can't remember the dates but it was away back before you were married."
She told the court she was "absolutely positive" this was her recollection.
Mrs Byrne told the court that Mr Sheridan left before the end of the meeting and afterwards there was more discussion.
She said: "There was a lot said, more allegations, a whole lot of very emotive things were said that were very, very discomforting. I didn't feel at all comfortable.
"It was almost like a kangaroo court without you present."
She told the jury that those present discussed the way forward if the allegations were printed in the News of the World, and whether it was appropriate for Mr Sheridan to continue as convener of the party.
She said: "The talk was that it might perhaps be better to ask you to stand down as convener should these allegations come forward."
Mrs Byrne, who was an SSP MSP between 2003 and 2007, said that, in the days after the meeting, she discussed the matter with a number of people she was close to, including former party press officer Hugh Kerr.
Mr Sheridan asked her what she told them.
Mrs Byrne answered: "I reassured them that you had not said that you had been at a sex club, which was the rumours, and I reassured them that you had denied ever being at the sex club."
Mrs Byrne also told the court she thought the United Left group which was formed within the SSP was "out to get" Mr Sheridan before the allegations were printed in the News of the World.
She said she thought the group was motivated by jealousy of his high profile.
Under cross-examination, Mrs Byrne told advocate depute Alex Prentice QC: "All I can say is that these people were out to get Tommy and were prepared to do whatever they could to do that.
"I have already described the meeting as a kangaroo court. They had already found Tommy Sheridan guilty and, no matter what he said, he was guilty."
She added: "They seemed to have their own ambition, they seemed to be jealous of the fact that Tommy Sheridan's profile was so high. They wanted to be the ones with the high profile.
"This was a hysterical, nasty, nasty meeting."
Mr Sheridan denies making false statements as a witness in the defamation action on 21 July 2006.
His wife denies committing the same crime on 31 July 2006 after being sworn in as a witness at the civil jury trial.
The trial before Lord Bracadale continues.
Related Internet Links
The BBC is not responsible for the content of external sites.