Orange parades to be limited in Glasgow city centre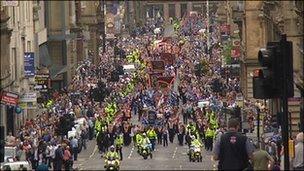 Glasgow City Council has passed measures which will effectively put a cap on the number of Orange parades allowed on its streets.
Under new rules, the authority will not allow marches which may cause too much disruption or congestion.
Plans to publish the estimated policing costs for marches in the city have been dropped.
The Orange Order has described the new policy as "discriminatory and illegal" and is planning a legal challenge.
Councillor Jim Coleman said Glasgow's new approach to marches and parades was "a significant step forward".
"What we have done is try to reach a balance where we protect people's democratic right to demonstrate but without overwhelming the rights of the wider community," he said.
"We already know what the people of Glasgow think about public processions - research shows they want to see fewer of them, particularly in the city centre.
"It is in the interests of the marching organisations, whatever their tradition, that we make progress because the current position has become untenable.
"However, there is nothing in this policy that takes us outside of the existing legislation - we are not breaking any new ground, legally.
"The difference is that the marching organisations will know what will be supported and, crucially, the public will know how parades are handled and what they can expect of everyone involved."
The Grand Orange Lodge of Scotland, however, accused the council of discrimination and said it would consider a legal challenge.
County Grand Master Edward Hyde said: "Glasgow City Council has made it perfectly clear that this new policy is aimed directly at the Orange Order. This is religious discrimination.
"Furthermore, their attempts to prevent free assembly are completely illegal under European Human Rights legislation.
"We have the right to celebrate our own Christian beliefs just as any other organisation has the right to celebrate theirs.
"Just because a handful of politicians decide that they don't agree with our beliefs and values doesn't give them the right to banish us from our own city centre."
Mr Hyde added: "We believe that we will once again need to resort to the courts and human rights legislation to protect our freedoms."
In 2009/2010, there were 373 marches and parades in Glasgow, with 72 in the city centre.
According to the council's figures, the Orange Order organised 182 of these marches, with a further 32 from the Apprentice Boys of Derry and 26 from the Black Institute.
These organisations accounted for some 64% of all marches in Glasgow.
There were 27 Republican marches - 7% of the city-wide total.
Related Internet Links
The BBC is not responsible for the content of external sites.