Andy Coulson rejects Tommy Sheridan 'phone tap' claims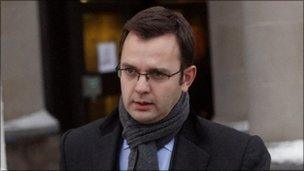 The prime minister's media chief has told a perjury trial he did not take a pay-off from the News of the World to keep quiet about a phone hacking storm.
The paper's former editor Andy Coulson told the High Court in Glasgow he had no knowledge of such activities and no interest in destroying Tommy Sheridan.
Mr Sheridan and his wife Gail, both 46, are accused of perjury.
They deny lying during his successful defamation action against the News of the World in 2006.
Former Scottish Socialist Party (SSP) leader Mr Sheridan won £200,000 when he took the newspaper to court after it printed allegations that he had committed adultery and visited a swingers' club.
After the court action, the former MSP and his wife were charged with perjury.
Mr Coulson, who is Prime Minister David Cameron's director of communications, was editor of the News of the World between 2003 and 2007.
He was giving evidence for a second day at the perjury trial.
Mr Sheridan, who is representing himself, asked Mr Coulson: "Are you the kind of editor who would ensure the stories were watertight or were you slapdash?"
Mr Coulson replied: "I would not describe myself as slapdash, it is impossible to go into every story in detail, I trust my staff."
Mr Sheridan continued by asking Mr Coulson if he remembered telling the industry journal Press Gazette that he "spent a great deal of time talking about stories and thinking them through".
Mr Coulson said: "Sure, but it is impossible to do that with every story. We try to be professional and I trust my staff. We don't get it right all the time, clearly in relation to Clive Goodman we didn't."
The former editor told the court on Thursday how he had stepped down from his job at the News of the World after one of his reporters, Clive Goodman, was convicted of phone hacking, along with private investigator Glen Mulcaire, and he felt he should take ultimate responsibility.
During later bad-tempered exchanges, Mr Coulson said he was confident the police would find no evidence that he was aware of illegal phone hacking at the News of the World.
He also denied possessing compromising information about the policeman who led the inquiry into the illegal hacking.
Mr Sheridan asked him: "Isn't it the case Mr Coulson that you knew all along about the illegal activities?"
Mr Coulson replied: "No it's not, Mr Sheridan."
The prime minister's press chief also denied that he been given a pay-off to keep quiet by the News of the World.
He said: "There is nothing I am not prepared to discuss in relation to my time at the News of the World."
Mr Sheridan also asked the witness whether he believed the prosecution was doing News International's job "in trying to destroy me".
"Certainly not," said Mr Coulson.
He added: "In relation to you and this case I am not aware of anything in any way shape or form that went on that was untoward."
Mr Sheridan then asked him: "How much money was the News of the World prepared to spend to destroy me?"
Mr Coulson replied: "I had no interest in destroying you, Mr Sheridan."
The jury also heard about former Metropolitan Police Assistant Commissioner Andy Hayman, who was later involved in an inquiry into the phone hacking scandal.
Mr Coulson said he had previously dealt with Mr Hayman and once "shared a cup of tea" with him.
Mr Sheridan asked: "Did you possess information (on Mr Hayman) that prevented you being thoroughly investigated at the inquiry? You are under oath, Mr Coulson."
He replied: "I know I am under oath, Mr Sheridan, and the answer is no."
Mr Sheridan asked Mr Coulson why Mr Hayman had later been given a job at The Times newspaper, which along with the News of the World, is owned by News International.
He said: "Do you agree that it stinks of corruption?"
Mr Coulson replied: "I absolutely disagree with you Mr Sheridan. I think it's nonsense."
Mr Sheridan showed Mr Coulson a copy of Glen Mulcaire's notebook which contained the politician's phone number and address.
However, Mr Coulson denied that he had ordered Mr Mulcaire to intercept Mr Sheridan's mobile phone, saying: "I had absolutely no knowledge of it and I certainly didn't instruct anyone to do it."
Concluding his examination, Mr Sheridan referred to a video tape, for which the News of the World paid £200,000.
The tape is alleged to show Mr Sheridan admitting that he visited a sex club.
Mr Sheridan asked the media chief how he knew that it was his voice on the tape.
"It's your voice Mr Sheridan and I think you know it is," Mr Coulson said, and then denied an accusation by Mr Sheridan that he had winked at him.
Mr Sheridan denies making false statements as a witness in the defamation action on 21 July 2006.
His wife denies committing the same crime on 31 July 2006 after being sworn in as a witness at the civil jury trial.
The trial before Lord Bracadale continues.
Related Internet Links
The BBC is not responsible for the content of external sites.