Violent Rangers fan loses 'Uefa riot' sentence appeal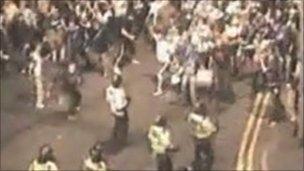 A diminutive Rangers fan has failed in a bid to have his jail term cut on the grounds that he was too short to play a serious part in rioting in Manchester.
James Bell, 44, from Cumbernauld, North Lanarkshire, was jailed for 12 months after admitting violent disorder following the 2008 Uefa Cup Final.
His lawyers argued the sentence was too long as at 5ft tall and 8st 7lb he did not present an intimidating figure.
But judges rejected this, saying he was "at the forefront" of the disorder.
An estimated 125,000 Rangers fans descended on the city for the game against Zenit St Petersburg in May 2008.
Trouble erupted in a fan zone after a giant screen in the city centre failed.
London's Criminal Appeal Court heard how Bell was jailed and handed a six-year football banning order after pleading guilty to violent disorder at Manchester Crown Court in November this year.
The court was told Bell had pleaded guilty on the basis of throwing one bottle at police after being knocked over in a shield charge.
That account was disregarded however by the sentencing judge after he saw CCTV footage of Bell throwing at least four missiles at officers.
Bell's lawyers argued the basis of his plea ought to have been honoured despite the CCTV evidence.
They also claimed that because of his height and weight, Bell could not have played a major part in the violence.
But, rejecting his sentence appeal, Judge Martin Stephens QC, said the sentencing judge had been right to make a "complete rejection of the basis of plea" adding that Bell was "at the forefront of the confrontation".
Refusing permission to appeal against sentence, he went on: "The seriousness of offences such as these lies in the effect of the overall activity.
"The violence was truly terrifying and appalling, for members of the public as well as for the police.
"It was described as the worst night of violence and destruction in the city centre of Manchester since the Blitz. This application is refused."
Related Internet Links
The BBC is not responsible for the content of external sites.