Tommy Sheridan 'was set up by the state' claims witness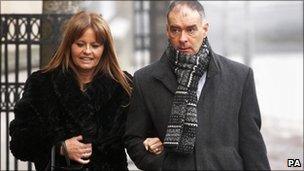 The Tommy Sheridan perjury trial has been told the former Scottish Socialist Party (SSP) leader was "set up" by the state and jealous colleagues.
Brett Harper, a social worker, told the High Court in Glasgow the politician was targeted because of his opposition to the poll tax.
Mr Sheridan and his wife Gail, both 46, are accused of perjury.
They deny lying at his successful defamation case against the News of the World in 2006.
Mr Sheridan won £200,000 after it printed allegations that he had committed adultery and visited a swingers' club.
After the court action, the former MSP and his wife were charged with perjury.
Mr Harper, from Fraserburgh in Aberdeenshire, said he first met Mr Sheridan as a student member of the SSP, when he organised events which the politician addressed.
He said he hosted similar events for other former SSP MSPs, Frances Curran and Colin Fox.
There was "a lot of jealously and bitterness" towards Mr Sheridan within the party, he said.
Mr Harper told Mr Sheridan, who is representing himself: "I saw it myself.
"I organised for Frances Curran to come to Aberdeen. She was very keen to point out to people it wasn't Sheridan's Socialist Party, and that we had to get away from the almost-cult of Sheridan and make it a more open party.
"She made personal digs about you, about the whole sunbed thing.
"I'm sorry to say she also made digs about your wife for shopping in TK Maxx."
Under cross-examination from advocate depute Alex Prentice QC, Mr Harper added: "Tommy was set up by members of the state. I believe Mr Sheridan and others on the left have been targeted and the state was involved."
Mr Sheridan later attempted to call disgraced private eye Glenn Mulcaire as his next witness.
Mr Mulcaire was previously jailed alongside News of the World Royal editor Clive Goodman for phone hacking.
However, Mr Mulcaire was not present to give evidence.
Mr Sheridan told the jury the investigator had been "cited", but had been "reluctant".
He instead called Metropolitan Police officer Det Ch Sup Phil Williams, who lead the inquiry into Mulcaire and Goodman.
Mr Sheridan, who claims to have been the victim of bugging, quizzed the policeman about his personal details being found amongst notebooks seized from Mr Mulcaire's Surrey home.
DCS Williams said: "There was nothing unusual for people within the media to have details of all sorts of people in the public eye.
"This does not mean its evidence that was for the purpose of (phone) interception.
"This does not mean you were a victim of interception. There was no information in our system in relation to you."
Mr Sheridan questioned why he had never been alerted to his details being found, claiming police could have "picked up the phone".
The detective said: "There were all manner of names of people in the media in these documents. This does not mean anything unlawful is happening."
Mr Sheridan alleged the detective and his team treated the News of the World with "kid gloves" and accused them of being on "friendly terms".
Prosecutor Mr Prentice later put to DCS Williams: "There is a suggestion of some kind of corruption going on."
The officer replied: "I have absolutely no relationship with the News of the World. I pushed the law as far as I could legally."
Mr Sheridan denies making false statements as a witness in the defamation action on 21 July 2006.
His wife denies committing the same crime on 31 July 2006 after being sworn in as a witness at the civil jury trial.
The trial, before Lord Bracadale, continues.
Related Internet Links
The BBC is not responsible for the content of external sites.