Dispersal order targets north Glasgow street gangs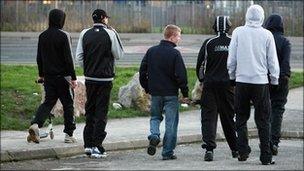 A rarely-used anti-social behaviour power is to be enforced for three months in the north of Glasgow to crack down on groups causing trouble.
From 0700 GMT on Tuesday, Strathclyde Police will use a dispersal order in Saracen, Possilpark, and Hamiltonhill.
The measure - which runs until March - allows groups of two or more people to be broken up if officers deem they may cause public harm or distress.
Anyone refusing to comply risks a £2,500 fine and three month jail term.
The dispersal order, which is granted under the Antisocial Behaviour (Scotland) Act 2004, was first used in Scotland in 2006 by Strathclyde Police in Glasgow's Knightswood area.
Saracen, Possilpark, and Hamiltonhill will be subject to the same action as the force said they had been "troubled by significant and persistent levels of violence, disorder and antisocial behaviour".
Ch Insp Grahame Clarke, of Strathclyde Police, said: "The dispersal order is about using appropriate powers to target and tackle this small minority, both young and old, who make everyone's life a misery with their antisocial behaviour.
"Lets make it clear, this is not about stigmatising or targeting any individual or group.
"We can disperse any groups gathering and acting in an antisocial way for up to 24 hours.
"Their details will be noted and kept on a register. If they don't comply they face being arrested and I'm sure this will discourage groups from hanging around and acting in a disorderly and aggressive manner."
Extra officers will be deployed to the three areas over the next three months to enforce the order.
The use of a dispersal order is being supported by Glasgow City Council and local housing associations.