North Lanarkshire Council to cut 600 jobs in two years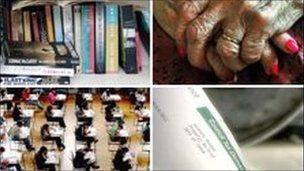 One of Scotland's largest councils is to cut 600 jobs as part of a series of measures designed to save £55m over the next two years.
North Lanarkshire Council said it hoped to achieve the cuts through natural turnover, voluntary redundancies and early retirements.
But it said it could not rule out compulsory redundancies.
The council has also agreed to axe some services and introduce or increase charges for others.
It intends to end free transport for secondary school pupils who live within three miles of their school, to save £1m.
It will also remove the existing community wardens service to save a further £765,000, and plans to raise lunch club charges from £2.10 to £3 and also charge many students for music tuition.
Council leader Jim McCabe said: "We have been faced with hard choices and have had to make some big decisions about the services we provide and how we provide them.
"We would rather not have been in this position and the financial crisis facing the UK is a problem not of our making.
"However, we have done our very best to maintain vital services and protect the most vulnerable in our society while trying to minimise the impact on our employees."
Mr McCabe said the introduction of a "living wage", which means all employees will earn a minimum of £7.15 per hour, was "a hugely important step" for the council.
But he added: "We have had to take decisions which will mean reduced services in some areas and stopping some services altogether.
"But our focus has to be on finding a balance between the budget and protecting vital frontline services."
The Labour-controlled council announced proposals for cuts and savings three months ago and has been holding a consultation since then.
Options which were rejected by councillors included the removal of free fruit for children in primaries one and two and the removal of the £15 Christmas gift given to elderly people in the area.
Gavin Whitefield, the council's chief executive, said: "These savings are unfortunately necessary.
"The decisions taken will at least provide some certainty for the residents of North Lanarkshire and the council's employees for the next two years.
"The savings will mean a reduction to our workforce initially of around 600 full-time posts.
"The vast majority of these will be dealt with through deleting existing vacancies and through voluntary redundancy and early retirement.
"However, we are unable to rule out a small number of compulsory redundancies as a result of the decisions taken."
He insisted every effort would be made in consultation with the trade unions to explore all options for employees.
"These are the hardest financial pressures I have seen in local government," he said.
"However, we are well-placed to manage these changes as effectively as possible and I know that all our employees remain committed to providing the highest quality of service."
Related Internet Links
The BBC is not responsible for the content of external sites.