Glasgow City Council chief attacked over cuts note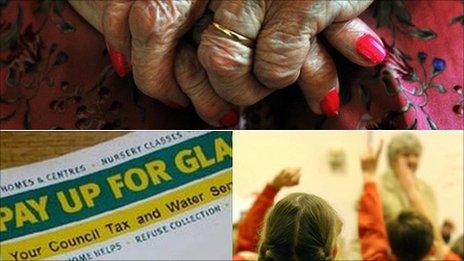 The top official at Glasgow City Council has come under fire from SNP councillors over a briefing note he sent to staff on budget cuts.
Chief executive George Black warned staff that a 3.6% budget cut would mean an extra £13.5m of cuts.
He also reflected that West Lothian Council only had a budget cut of 0.32%.
SNP group leader James Dornan accused Mr Black of playing political games. The council said it was important to be honest with staff.
Under the Scottish government's plan to freeze the council tax next year, local authorities will get 2.6% less money between them. However the exact amount varies from council to council.
Councillor Dornan said: "At no time did the Scottish government say Glasgow would be receiving a 2.6% reduction in its budget allocation, this was the figure for councils as a whole and agreed by Cosla, of which Glasgow City Council is a member."
He added: "Given that Mr Black and the leader of the council both appear to be saying they were surprised not to receive the average reduction figure of 2.6%, I am calling on Glasgow City Council to publish all correspondence between Cosla and the council on the methodology used to calculate budget allocations to councils to see if Glasgow was taken by surprise by this announcement and did they try to persuade their colleagues that the methodology was unfair to the city.
"Or is it the case that, once again, they are crying crocodile tears in an attempt to attack the Scottish government when they should be bringing forward serious budget proposals to deal with the problems Glasgow faces thanks to Westminster's incompetence and heartlessness."
The council's leader, Gordon Matheson, has expressed anger at the Scottish government's proposed deal to freeze the council tax in 2011 and accused them of acting like bullies.
Mr Matheson, a Labour councillor, said: "I cannot believe a Glasgow councillor of any party would defend the Scottish government as it rips off our great city.
"Councillor Dornan should read his job description. He's supposed to stand up for the people of Glasgow."
Mr Matheson had previously argued that local authorities should be able to increase the council tax in 2011 without losing money from central government.
The terms of the SNP administration's offer to councils mean they would typically lose 2.6% of their government funding if they froze the council tax but would see their funding cut by even more if they did not agree.
In practice, this would mean that any rise in the council tax would have to be substantial to make up the difference.
Glasgow City Council has frozen the council tax since 2006, two years before a deal between councils and the Scottish government led to a national council tax freeze.
A spokesman for the council said: "The council is committed to sharing the facts about matters which affect staff with them at the earliest possible opportunity.
"It is true to say that the Scottish government's announcement has deprived the people of Glasgow of an additional £13.5m.
"It is true to say that Glasgow has very nearly the largest cut of any authority in the country and it is perfectly true to point out that had we been treated the same as other authorities the damage to Glasgow would be substantially less.
"It is important to be honest with staff and that is what we are doing."
Related Internet Links
The BBC is not responsible for the content of external sites.