Theory over famous Mendelssohn 'Fingal's Cave' overture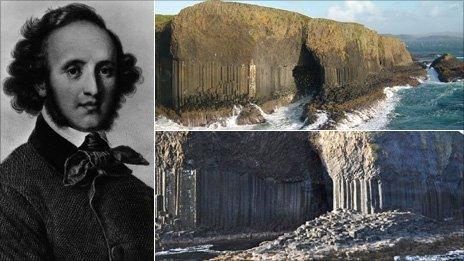 A Scots writer has suggested a new link between the famous Felix Mendelssohn composition Hebrides Overture and the Scottish landmark which inspired it.
Iain Thornber claims the work, also known as Fingal's Cave, was purposely finished on the only day of the year the cave is illuminated by sunlight.
The German composer completed the initial draft on 16 December 1830.
Mr Thornber says the cave is only fully illuminated around this date when the sun lies 5.6 degrees above the horizon.
Fingal's Cave is a sea cave on the uninhabited island of Staffa off the west coast of Scotland in Argyll and Bute.
It is often described as one of the natural wonders of Scotland.
The structure is formed from hexagonally jointed basalt columns, similar to those on the Giant's Causeway in Northern Ireland.
Mendelssohn visited the cave in 1829 while on a tour of Scotland and completed his Hebrides Overture on 16 December the following year.
The work, which is now popularly known as Fingal's Cave, helped the landmark become a tourist destination for other famous names.
Past visitors include Sir Walter Scott, Keats, Turner, Queen Victoria and Prince Albert, Prince William of Orange, William Wordsworth, Jules Verne and Robert Louis Stevenson.
Mr Thornber visited the cave while researching an article for Scottish Islands Explorer magazine to commemorate the 180th anniversary of the composition of Mendelssohn's Hebrides Overture on Thursday.
The writer said he hoped to see the entire 227ft (69m) length of the cave and its back wall bathed in sunlight.
He had calculated that because of the cave's alignment and the height of its entrance, this phenomenon would only occur when the sun lies 5.6 degrees above the horizon.
Mr Thornber said that each year this would be on or around 16 December - assuming favourable weather conditions.
During his visit, the writer said he saw the cave illuminated for a few brief minutes.
He now suggests it was "no mere coincidence" that Mendelssohn chose to complete his overture on 16 December.
"As he visited Staffa in August 1829 the composer could not have seen this for himself, but it is possible he may have heard about it from the boatmen who took him there," he said.
"In those days people in the neighbourhood were well-versed in the oral traditions and legends of Staffa and attached great importance to them.
"The lighting-up of the interior of the cave around the winter solstice would have been well known at one time but never written down."
Related Internet Links
The BBC is not responsible for the content of external sites.