Tommy Sheridan's brother-in-law denies sex club visit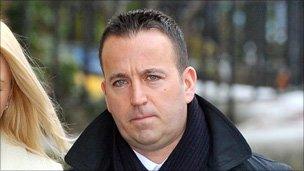 Tommy Sheridan's brother-in-law has denied lying in court and described as "total nonsense" claims he visited a swingers' club with the politician.
Andrew McFarlane, 40, told the High Court in Glasgow that at the time of the alleged sex club visit in 2002 he had been recovering from surgery.
Mr Sheridan and his wife Gail, both 46, deny perjury.
They are accused of lying during his successful defamation case against the News of the World in 2006.
The former Scottish Socialist Party (SSP) leader won £200,000 after the newspaper printed allegations that he had committed adultery and visited a swingers' club.
After the court action, Mr and Mrs Sheridan were charged with perjury.
Mr McFarlane, who is married to Gail Sheridan's sister, was giving evidence for a second day.
The former Queen of the South footballer was cross-examined by advocate depute Alex Prentice QC.
He told the prosecutor that a former friend of his and Mr Sheridan's, Gary Clark, was part of a "conspiracy" to make false allegations about a visit to a sex club in Manchester.
The witness said he was no longer friends with Mr Clark, who previously told the trial he could recall travelling in a car to Manchester with Mr Sheridan, Mr McFarlane, Anvar Khan and Katrine Trolle.
Mr Clark said they went to an "unusual" club screening pornography on the walls.
But Mr McFarlane told the court he had been at home on the night of 27 September 2002, watching the Ryder Cup and recovering from a hip operation.
Mr Prentice put it to him: "There would be no reason for anyone in the SSP to put you down, would there?"
Mr McFarlane replied: "No."
He then asked: "You have nothing to hide or be worried about. There is no obvious reason why the News of the World would go after you?"
The advocate depute said: "Anvar Khan, Katrine Trolle are all just liars?"
Mr McFarlane replied: "That is exactly what I am saying.".
Mr Prentice then asked: "Is Gary Clark part of some conspiracy?"
Mr McFarlane answered: "Yes. I can't explain why."
Mr Prentice then said: "It would be incredibly reckless to say you were with them if you were not. It is a dangerous thing to do, if they are going to fabricate this evidence to include you?"
Mr McFarlane replied: "Yes."
Mr Sheridan's sister later told the jury that a secret video said to feature the ex-MSP was a "fabrication".
Lynn Sheridan claimed it did not even sound like her brother in the footage that was sold to the News of the World.
The 52-year-old lecturer claimed Sheridan was "much more eloquent" and "never lost for words" in real life.
Prosecutor Mr Prentice later said that if it did not feature the ex-politician, whoever wrote the script must have decided to include Miss Sheridan and her sister Carol.
Miss Sheridan agreed that was the case.
Mr Sheridan denies making false statements as a witness in the defamation action on 21 July 2006.
His wife denies committing the same crime on 31 July 2006 after being sworn in as a witness at the civil jury trial.
The trial, before Lord Bracadale, continues.
Related Internet Links
The BBC is not responsible for the content of external sites.