Council funded body Glasgow Life to cut 300 jobs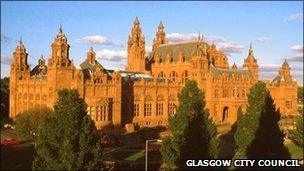 The body which runs Glasgow's museums, libraries and sports facilities has confirmed that it aims to cut 300 jobs over the next two years.
Glasgow Life - which is an arms-length body set up by the city council - said the move would help it make savings of £10.2m by 2013.
The organisation has a budget of £106m and employs almost 3,500 staff.
Unions criticised the cuts at a time when Glasgow Life is still in dispute with staff over working conditions.
A spokesman for the organisation said: "Glasgow Life must make savings of £10.2m over three years.
"We will do so without closing any facilities and with a commitment to maintaining public services.
"As part of the budget proposals being considered by Glasgow City Council are plans to make up to 300 posts redundant.
"This will take place over a two-year period and will be carefully managed. It is hoped that close management of staff vacancies will help mitigate the impact on jobs.
"We will be looking to increase flexibility among the workforce and at ways of increasing income as part of the savings."
Brian Smith, Glasgow branch secretary of Unison, said he was very disappointed that a Glasgow Labour council "was not standing up to the Tories and refusing to make the cuts".
He added: "We've had a meeting with Glasgow Life and have been informed of their plans to cut 300 posts.
"They have said they will try and avoid compulsory redundancies and we welcome that, however, there is a real concern about the lasting impact on services.
"If 300 posts go but nowhere closes, there will be a follow-on impact on the quality of services offered to the public.
"Are we going to see museums, libraries and sports centres with the same opening times and staffing levels?"
Mr Smith said industrial action would be almost inevitable if Glasgow Life chose to make any of the job losses through compulsory redundancies.
He added that the workforce may want to consider this route if there were any further attacks on terms and working conditions
Related Internet Links
The BBC is not responsible for the content of external sites.