Tearful appeal over missing son last seen in Glasgow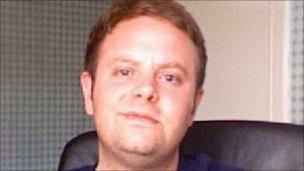 A mother has made a tearful appeal in Glasgow for her missing son to come home for Christmas.
Gavin Fern, 30, was last seen on 20 November on CCTV footage at the city's Buchanan Street bus station.
He had been due to attend a three-day training course in London on 22 November but failed to turn up.
Speaking at Cathcart police station, Mr Fern's mother, Sandra, 59, said: "I believe Gavin's out there. I believe my son's out there."
She added: "I cannot believe, after all this time, that somebody, somewhere has not seen something or might even know where he is and thinks they are being loyal.
"If he needed time out, if life was just a bit tough. You've come out and just seen all this fuss and you feel too embarrassed to step forward, then please don't be.
"There's no-one going to be angry. We just love and care about you so much and we just need to know you're okay. We just want you home for Christmas."
Mr Fern - a salesman for computer firm Hewlett-Packard - left his mobile phone and laptop in his flat in Battlefield, in Glasgow's south side.
His mother said she had last spoken to him on 4 September and the last text she received was on 7 November.
"I texted him a couple of times after that and never got a reply but that wasn't unusual for Gavin because he was always so busy or involved in work and he liked to write short stories," she added.
Mr Fern's sister Helen, 32, was also at the appeal and held her mother's hands at times during the press conference.
A Facebook page has been set up to help find Mr Fern, who is said to suffer from severe headaches which he sometimes takes medication for.
Friend Ewan Carrigan, 29, said: "I think it's really important to get across to Gavin how well liked and loved he is from his family, friends and colleagues.
"We've had tremendous support through our online campaigns. A few of his friends have set up these online campaigns through Facebook and Twitter.
"We're into the millions of hits now. I would really just urge people to join the Help Find Gavin Facebook page and to use Twitter.
"There's a number of celebrities that are involved now who are doing the re-tweeting."
"We've had Sarah Brown, Gail Porter, Lorraine Kelly, Michelle Mone, Richard Bacon.
Mr Fern, who is originally from Dunfermline, does not have a valid passport - his last one expired in 2007 - and has a provisional driving licence, but does not have a car.
He withdrew £60 from a cash machine at Central Station on the day of his last known sighting.
Ch Insp Alan Murray, from Strathclyde Police, said: "Gavin's not in any sort of bother, we really just need to speak to him to make sure he is safe and well and, hopefully, reunite him with his family and his friends as soon as possible.
"Up to the 20th of November his activity on his social networking sites was fairly normal for him. He was still using the sites."
Mr Murray said Mr Fern was planning on going on a foreign trip before he disappeared but there was no information he had left the country.
He said the disappearance was "very out of character" but there was no indication Mr Fern may have come to any harm.
Police forces across the UK have been informed of his disappearance.
Related Internet Links
The BBC is not responsible for the content of external sites.