GPS devices used to help Strathclyde abuse victims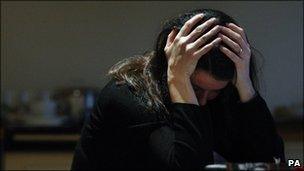 Scotland's largest police force is issuing GPS tracking devices to repeat victims of domestic abuse in a bid to protect them over the festive period.
Strathclyde Police said people at risk would be able to activate the devices by touching a button.
Satellite technology would then give their exact location so officers could be deployed to help them.
An operator will also be able to listen remotely to a victim if it is suspected they are being attacked.
The initiative is part of the force's domestic abuse campaign which runs until the middle of January.
Chief Constable Stephen House said that although the GPS devices would help tackle domestic abuse, police still needed assistance from the public.
He said: "For far too many people, this festive period will not be a happy time spent with their families. For the women and men who are suffering at the hands of an abusive partner, this will be a time of misery, of heartache and violence.
"The police and our partners will do all we can, however, we need everyone to play their part. If you know someone who is suffering in silence, we need you to come forward and help them break free from the violence.
"Pick up the phone, walk into a police station or visit one of our confidential third-party reporting centres. Do whatever you can to help. The action that you take can save a life. It is as simple as that."
During the last domestic abuse campaign, officers attended 3,961 incidents and arrested more that 1,700 offenders.
This year's campaign will see offenders who are subject to special bail conditions being "proactively policed" to ensure they are not breaching the conditions.
Lily Greenan, manager of Scottish Women's Aid, said: "This can be a particularly difficult time of year for women who are living with an abusive partner, and this is reflected by the sharp increase in incidents of domestic abuse recorded by police forces every year at this time.
"We welcome the proactive approach being taken by Strathclyde Police to reduce the incidence of domestic abuse.
"Visiting prior offenders on key dates has proved to be extremely effective and we wholeheartedly congratulate and support them in their efforts. We firmly believe that by working together, we can stop domestic abuse."
Related Internet Links
The BBC is not responsible for the content of external sites.