Limbs-in-loch killer Beggs denied Supreme Court appeal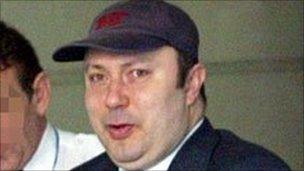 The man found guilty of the "limbs-in-the-loch" murder of a teenager has been refused leave to appeal against his conviction.
William Beggs, 47, was found guilty of killing and dismembering Barry Wallace in Kilmarnock, Ayrshire, in 1999.
The 18-year-old's remains were found in Loch Lomond and on a beach near Troon.
Beggs, who is serving 20 years for the murder, had claimed he had not had a fair trial and was a victim of a miscarriage of justice.
A full appeal against his conviction got under way in September last year, in which Beggs said "prejudicial" publicity had affected the outcome of his 2001 trial.
However, when that appeal was turned down in March this year, Beggs, originally from Northern Ireland, sought leave to appeal to the Supreme Court.
But that application was refused by the Court of Criminal Appeal in May.
In a decision issued in May by Lord Eassie, Lady Paton and Lord Bannatyne, the judges, ruled: "We have come to the conclusion that this application for permission to appeal to the Supreme Court should be refused."
But Beggs then made a direct application himself to the Supreme Court for special leave to appeal.
A statement from the Crown Office said: "The Supreme Court has refused an application by William Beggs for special leave to appeal against his conviction for the murder of Barry Wallace.
"This brings his appeal against conviction to an end.
"In October 2001, Beggs was sentenced to life imprisonment, having been found guilty by a jury at a trial at Edinburgh High Court of murdering 18-year-old Mr Wallace.
"He was ordered to serve at least 20 years in custody as the punishment part of this sentence."
Supermarket worker Mr Wallace vanished on 5 December 1999, after a Christmas night-out with colleagues in his home town of Kilmarnock.
He was last seen in the town centre.
A jury found Beggs took the teenager to his flat and subjected him to a serious sexual assault.
He then murdered him and cut up his body.
The killer dumped the limbs and torso in Loch Lomond and the head in the sea off the Ayrshire coast.
Shortly after the crime, Beggs fled to the Netherlands.
After lengthy extradition proceedings, he was ordered in January 2001 to be returned to Scotland to face trial.
Related Internet Links
The BBC is not responsible for the content of external sites.