Freezing water hampers fire crews in South Ayrshire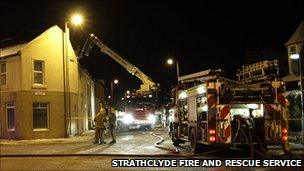 Firefighters who rescued a man from a burning house in South Ayrshire called for help after the mains water supply was affected by freezing conditions.
Crews were called to the property in Prestwick's Monkton Road at about 2230 GMT on Thursday.
Additional support was sought from Ayr and Kilmarnock fire stations after the mains supply was affected by a temperature of -13C .
The man who was rescued was treated in hospital for burns to his arms.
Strathclyde Fire and Rescue and Strathclyde Police have launched a joint investigation into the cause of the fire.
Related Internet Links
The BBC is not responsible for the content of external sites.