New scheme to protect Glasgow NHS staff from stalkers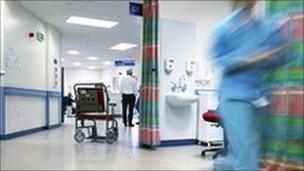 Scotland's biggest health board has become the first in Scotland to develop a zero tolerance policy on stalking.
NHS Greater Glasgow and Clyde (GGC), which has 44,000 employees, created the policy after incidents where staff faced "unwanted and intrusive contact".
In some cases staff were followed, secretly photographed and harassed.
The policy has been developed in partnership with Strathclyde Police's Domestic Abuse Task Force and Action Scotland Against Stalking.
Ann Moulds, from Action Scotland Against Stalking, said the policy set a "precedent of how stalking should be dealt with within organisations".
She said: "The structure of the working environment can make it easier for a stalker to track and pursue their victim with relative ease.
"This is an excellent policy which will allow for early identification of stalking cases, staged interventions through ongoing case management thereby offering the victim protection and support."
Dr Anne MacDonald, a consultant forensic psychiatrist and member of the working group, said: "Stalking in the workplace is a highly disturbing unwanted intrusion on a person's life which can be expected to affect their work, those they work with, and their social network."
The policy describes stalking as a form of predatory behaviour or targeted violence taking place over time.
Each individual act may not be illegal or seem worthy of note in itself, but the pattern represents a threat.
Kenneth Fleming, NHS GGC head of health and safety, said: "This new policy will raise awareness of the issue amongst staff, managers and human resources personnel and provides guidance and a framework for recognising stalking, and supporting staff affected."
The new policy outlines a long list of behaviour which managers can use to identify people considered to be stalking.
They range from unwanted physical or sexual harassment and property damage to rumour campaigns and the manipulation of others against a particular individual.
The policy also outlines measures to support staff, particularly if they are lone workers, who are being stalked including mentoring and GPS tracking technology.
Related Internet Links
The BBC is not responsible for the content of external sites.