Argyll and Bute stops school closure consultation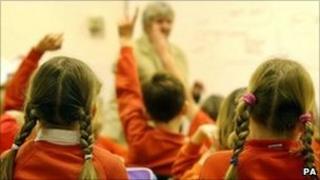 Argyll and Bute Council has agreed to stop a consultation on the possible closure of up to 25 primary schools.
The move comes after new information emerged which suggested there were inaccuracies in the information the consultation was based on.
A demonstration was held outside the authority's headquarters in November as it narrowly voted to consult on reducing local primaries from 80 to 55.
The council claimed the move would help save £15m by 2014.
Under the plans, the primaries would have been amalgamated into 19 "receiving" schools.
Argyll and Bute Council's total annual budget is currently £278m.
It anticipates a shortfall of between £9m and £13m each year for the next three years.
The authority hoped to cut its education budget, currently £99.6m, by 15% over the same period.
The council's will now draw up a new set of proposals for the future of schools in the area, which will be discussed in March.
Education Minister Mike Russell has been referred to the Scottish Parliament's Standards Commissioner by Scottish Labour.
They claim Mr Russell interfered in the Argyll closures programme, resulting in the SNP group changing its opinion on the closures and leaving the council administration.
Mr Russell has dismissed the criticism as "political froth".