Baby and children injured in fire at Paisley tenement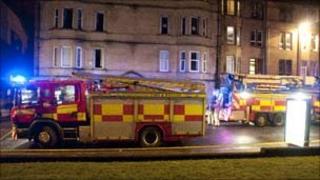 Eight people, including three children and a baby, have been treated for injuries, including burns and severe smoke inhalation, following a fire in a four-storey tenement in Paisley.
The blaze, in the first-floor flat in Broomlands Street, began just after midnight.
A man and a woman were rescued from the flat by firefighters.
And a family of six, including the children and baby, were rescued through the window of a top-floor flat.
All eight casualties were taken to the Royal Alexandra Hospital in Paisley.
Four hours later, two men required hospital treatment following a fire in a ground-floor flat in McClymont Court in Cumnock.
The cause of the fire is being investigated.