Man jailed for stabbing in Glasgow over 'waving snub'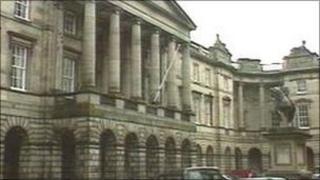 A man who tried to kill his friend after being accused of not waving to him from a car has been jailed for five years and three months.
John McCoo, 33, admitted attempting to murder Brian Winters, 38, by stabbing him on the neck and body in Albert Road, Crosshill, Glasgow, last July.
The High Court in Edinburgh heard that both men had become friends after previously meeting in prison.
McCoo was also ordered to be supervised for three years after his release.
The court heard how Mr Winters and his girlfriend were out walking their dog when McCoo drove past in the passenger seat of a car and did not acknowledge them.
Neck wound
Mr Winters was angry and phoned another friend Des Haggerty, 34, who was driving the car, to complain.
Minutes later the car driven by Mr Haggerty stopped in the street near Mr Winters and McCoo got out.
He produced a knife and struck Mr Winters on the neck then stabbed him on the left side of his body before returning to the car and being driven off.
The attack perforated Mr Winters' external jugular vein.
McCoo claimed in court that he had only meant to slash Mr Winters' face but had missed.
Lord Pentland told McCoo that because of the risk he posed to the public, he would remain under supervision for three years after his prison sentence.