Alcohol blamed for Strathclyde fire tragedies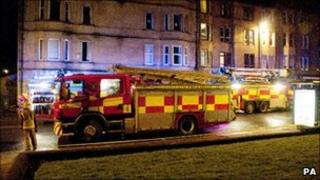 Alcohol is being blamed for an "unprecedented level" of fire tragedies in Scotland over the festive period.
Strathclyde Fire and Rescue Service chief officer, Brian Sweeney, said fatalities and casualties across his area were at a 10-year high.
Since Christmas, his crews have put out almost 250 house fires, which injured 68 people, and killed five others.
He said smoking, cooking and heating were factors but "alcohol" was the main reason why people lost their lives.
Mr Sweeney was speaking at a news conference in Glasgow following a spate of fatal house fires across Strathclyde during the festive period.
'Greatest crisis'
He said: "Our focus today is a festive season, particularly over the last 10 days, which has caused an unprecedented level of tragedy and misery across our communities.
"During the seasonal period the problem is alcohol, alcohol, alcohol. We fundamentally need to change our relationship with alcohol.
"In my opinion, for example, the economic crisis is not the greatest crisis facing Scotland at the moment.
"The greatest crisis facing Scotland is our dependency on alcohol, our consumption of alcohol - it's binge drinking and being under the influence of alcohol."
Mr Sweeney said he wanted to see Scotland change its relationship with alcohol in the same way it had changed its relationship with smoking in public places.
Kevin Wemyss, 29, was rescued by firefighters from his fourth-floor flat in Paisley, Renfrewshire, on Thursday.
A fire broke out in another flat in the tenement where he lives with his 10-month-old daughter Luci, fiancée Nikki Drew, 30, and her three children aged nine, seven and five.
A man and a woman rescued from the ground floor flat, where the fire started, are still being treated in hospital.
Mr Wemyss said: "You think: it won't happen to me, but nothing prepares you for a lung-full of that smoke. The minute that smoke catches the back of your throat, you start coughing and you can't stop coughing until you get into fresh air.
"The big thing that we've all learned from that is the quickness the smoke spread. We went from a little bit of smoke under the front door to 60 seconds later the flat was full of smoke.
"It got to the stage where in the flat where you could not see your hand in front of your face and the only thing keeping us breathing was having the windows at the front wide open and our heads as far out.
"I feel quite lucky. Nicola is having second thoughts about living in a top-floor flat now.
"From now on we will have a fire plan so we know where to go to escape or be rescued. Don't sit there and think it will not happen because if it does it scares the hell out of you basically, and it all happens quicker than you think it would."
Sprinkler plea
Mr Wemyss said two alarms went off in the flat and he was awake when he heard some bangs and saw smoke in the stairwell of the tenement.
Assistant chief officer and director of community safety, Lewis Ramsay, also said he wanted all new homes in Scotland to have linked alarms and sprinklers fitted as standard. Linked alarms alert firefighters to blazes in properties.
He said: "Last year there were 31 fire deaths in Strathclyde. Had there been a linked alarm in their homes, we would have saved 18 of those people. All of them would have survived if they had a domestic sprinkler in their home.
"We have to understand that there are members of our community who are at risk and those people are who we should be targeting immediately and placing devices in their homes to protect them."