Police hailed as heroes after Biggar school bus crash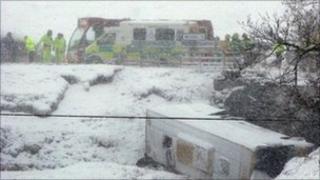 Four Strathclyde police officers are to receive bravery awards for rescuing pupils from a school bus crash.
Pcs Mark Grant, Russell Davidson, Andrew King and James Sheen waded into a raging river in darkness to save students following the accident.
Lanark Grammar pupil Natasha Paton, 17, died in the crash in Biggar last March.
Announcing the awards, the society's secretary, Dick Wilkinson, praised the officers for their "brave search in harrowing and dangerous conditions."
The single-decker bus was carrying 30 pupils and five adults when it crashed in the early hours of the morning.
The driver lost control on a bend during treacherous conditions on the A73 at Wiston in South Lanarkshire.
The bus collided with a bridge and tumbled down an embankment where the front end came to be submerged in the river.
Mr Wilkinson said police on the scene "did everything possible to save lives, particularly Pc Grant, who climbed over seats searching the submerged bus".
He added: "They all richly deserve their awards."
Pc Grant was the first to arrive on the scene, where he found the distraught passengers on the bank and the teachers struggling to account for all of the pupils.
He climbed through the broken windscreen in search of survivors, and used the seats to haul himself up and down the bus through waist-deep water.
When Pcs Davidson, King and Sheen arrived, they waded into the rising waters with members of Strathclyde Fire and Rescue, recovering the body of Natasha from under the bus.
Despite immediate medical attention, she was found to be dead at the scene.
Pc Grant is to be awarded a Royal Humane Society Testimonial on Parchment. His colleagues will be given Certificates of Commendation.