Wind link to Colin McRae helicopter crash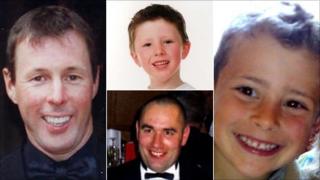 Wind "probably" caused difficulties for a helicopter piloted by Colin McRae which crashed killing all on board, a fatal accident inquiry has heard.
Civil engineer Donald Cook, 54, told the inquiry at Lanark Sheriff Court there was no sign of engine problems when he saw the aircraft.
The helicopter crashed near Mr McRae's home in Lanark in September 2007.
The 39-year-old died along with his five-year-old son Johnny, Ben Porcelli, six, and 37-year-old Graeme Duncan.
Mr Cook told the court that he was out walking his dog near Lee Castle in Lanark when he spotted the aircraft flying low.
The witness said he was familiar with helicopters through his work and they tended to attract his attention as a result.
'Engine fine'
He said: "I also noticed it was at a relatively low height. It's difficult to determine height accurately, it was maybe three or four hundred feet, quite a bit lower than helicopters would normally fly at."
Mr Cook said he saw news of the helicopter crash later that day, which contained suggestions of engine problems and erratic flying.
But the witness told the court there was no sign of engine problems at the point when he saw the helicopter.
"The engine was fine," he told the inquiry.
He also told the court: "I do remember it was quite a windy day. I thought, the guy's probably having difficulty flying in that condition."
The inquiry into the crash, which is expected to last several months, entered its fifth day on Friday at Lanark Sheriff Court.