Business fears over BMI route being axed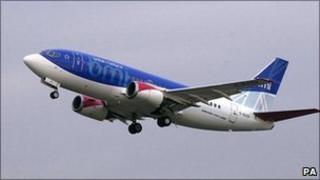 Business leaders have expressed concerns following reports that the airline BMI is poised to axe its Glasgow to Heathrow route.
The airline, which has 138 staff based at Glasgow Airport, is said to have calculated its losses on the service at £1m a month.
BMI said no decision had yet been made on its review of "weaker routes".
Glasgow Chamber of Commerce said the trend was to allocate Heathrow slots to national rather than domestic flights.
Stuart Patrick, the chamber's chief executive, told BBC Radio's Good Morning Scotland programme: "That is likely to affect Scottish Airports gradually over time."
Price implication
He said Scotland would be left with no choice if BA was the only airline to provide flights between London Heathrow and Glasgow.
Mr Patrick added: "The most important bit of this is where BMI flights link to international flights to long-haul destinations.
"Clearly, we are concerned that if the range of choice is reduced and the supply of routes into Heathrow reduces, then there is bound to be an implication for price."
Mr Patrick said that no other airline could take over the route as BMI owns the slots at Heathrow and it would therefore just reallocate them to more profitable routes.
A spokeswoman for BMI told BBC Scotland's news website: "Our domestic strategy is to focus on strong routes which are sustainable and have sufficient customer demand. We are currently reviewing weaker elements of our route network but no decisions have been made."