Sheridan sentencing is Scottish courts Twitter first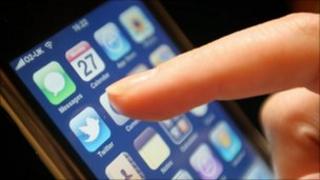 Live updating on Twitter from a Scottish court has been allowed for the first time for the sentencing of former MSP Tommy Sheridan.
Trial judge Lord Bracadale ruled that journalists could send tweets from the hearing at the High Court in Glasgow.
Live tweets from the micro-blogging site were published from inside the court by journalists, including BBC correspondent Raymond Buchanan.
Elizabeth Cutting, head of judicial communications for Scottish Courts, also produced a feed.
Mr Buchanan said: "Lord Bracadale has decided that the 21st Century has arrived for the Scottish legal system.
"For reporters inside the court, once we hear the sentence that Tommy Sheridan will be receiving we'll be able to publish that via the social network site Twitter."
The Lord Chief Justice for England and Wales previously ruled in favour of the practice.
His decision last month was prompted by journalists using Twitter during the bail hearing of Wikileaks founder Julian Assange.
He said live text-based communication would be allowed as long as the judge believed it would not interfere with the administration of justice.
The interim guidance, which will be reviewed, covers the use of mobile, e-mail and social media such as Twitter, and internet-enabled laptops in English and Welsh courts.
The Tommy Sheridan case has attracted huge media attention.
His 12-week trial, which ended with a guilty verdict two days before Christmas, was the longest perjury case in Scottish legal history.
Sheridan denied lying under oath when he sued the News of the World in 2006 over its claims he was an adulterer who had visited a swingers' club.
Judge Lord Bracadale gave Mr Sheridan a three-year prison sentence.