Anger over salary for new SPT chief executive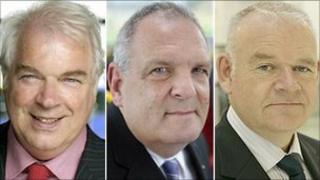 A transport authority which was mired in an expenses scandal is under fire again over a top official's salary.
Strathclyde Partnership for Transport's (SPT) previous chief executive stood down from his post last year amid widespread criticism over expenses.
Now the authority wants to pay up to £136,000 for a permanent successor to Ron Culley.
Critics say the salary is too high as SPT's role has shrunk and the body may not survive future cost-cutting.
Glasgow SNP councillor Graeme Hendry said SPT, which is controlled by a majority of Labour councillors, needed to rethink how it was using taxpayers cash.
'Unjustifiable salary'
"Given the current financial climate it would be irresponsible and unjustifiable for SPT to pay such a salary," he said.
"The reality is that SPT's responsibilities have fallen in recent years and the chief executive's salary should reflect this.
"I'm afraid this is just another example of Labour's irresponsible use of public money and raises further questions over the need for SPT.
"With both Scotland's major parties seeing no future for SPT any appointment should be on a fixed-term contract to lower the risk to the public purse of further huge payouts to senior SPT officials."
Scottish Liberal Democrat finance spokesman, Jeremy Purvis, described the salary for the new chief executive as "ridiculous".
He said: "SPT could be disbanded after the election. That would mean yet another bumper payment to the latest quango chief."
A paper is due to go before SPT's board, seeking the go-ahead to appoint a permanent replacement for Mr Culley.
He stood down last year amid the expenses scandal, along with then chair and Glasgow Labour councillor Alistair Watson and then vice chair and South Lanarkshire Labour councillor Davie McLachlan.
The controversy erupted after it emerged that SPT officials claimed more than £100,000 in expenses between 2006 and 2009.
The organisation was criticised over foreign "fact-finding" trips by several officers and elected officials.
There were also questions about expense claims from officials who had organised a meeting with Greater Manchester Passenger Transport Executive on the day of the Uefa Cup final in 2008 between Rangers and Zenit St Petersburg.
Interim appointment
Two subsequent reports criticised the culture and procedures at the transport authority.
In the wake of the scandal, Gordon Maclennan was appointed as interim chief executive.
SPT said it was now seeking to make a permanent appointment to provide "stability".
Glasgow Labour councillor and SPT chair, Jonathan Findlay, said: "The chief executive post was filled on a temporary basis last April with a commitment to make a permanent appointment one year on. We are now making good on that promise.
"SPT needs long-term stability and focus as we look to deliver major projects such as the largest subway upgrade in 30 years, integrated 'smartcard' ticketing across all modes of public transport and the improvement of shared services across the west of Scotland.
"This appointment will help drive the organisation forward and reassure our staff and customers during the current financial climate."
Mr Findlay also labelled Councillor Hendry's assertion that there may be "no future for SPT" as "blatant electioneering tactics".
He said this was "extremely damaging" at a time when "there has been no official confirmation from any political party that they intend to abolish SPT".
Mr Findlay added: "Any proposal to alter that will not only need a change in legislation but will need to be coupled with a serious alternative - one that combines local accountability with a sound economic case that continues to deliver economies of scale and value for money while, at the same time, delivering for local people on a wide range of transport services across council boundaries."