Comet cuts 40 service centre jobs in Coatbridge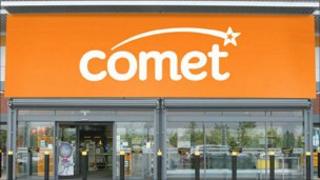 The electrical giant Comet is to close its customer service centre in North Lanarkshire with the loss of 40 jobs.
The firm has started a 30-day consultation with affected staff, who work in the Coatbridge centre's service operations section.
Comet plans to centralise the posts at two distribution sites in Harlow and Skelmersdale in England.
The company's home delivery operation at the Coatbridge site is not affected by the job losses.
Managing director Hugh Harvey said: "This difficult decision in no way reflects the efforts and commitment from our service centre workforce.
"However we have to react to challenging market conditions and the centralisation of our service function will allow us to work more efficiently.
"In addition to cutting costs it will also enable us to provide an improved and faster repair service for customers.
"We will be doing all we can to support our affected colleagues and will ensure all staff are kept fully informed of developments at each and every stage."