SPT 'delays' appointing new chief executive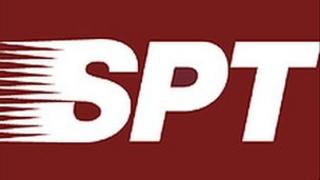 A transport authority which was mired in an expenses scandal looks set to postpone hiring a top official amid political uncertainty over its future.
Strathclyde Partnership for Transport (SPT) has delayed procedures for appointing a new chief executive.
It follows claims by critics that SPT should offer a fixed-term contract and cut the salary of up to £136,000.
BBC Scotland understands the full appointment may now be postponed until after May's Holyrood elections.
'Interim arrangements'
SPT chairman and Glasgow Labour councillor Jonathan Findlay said the SPT's cross-party recruitment committee referred the matter to the full partnership board, which meets on Friday.
"Members will be given the opportunity then to press ahead with a permanent appointment or to extend the existing interim arrangement," Mr Findlay said.
"The committee agreed that continuing uncertainty within the political arena as to the future operation and function of regional transport partnerships and the current financial climate needed to be taken into consideration."
Earlier this week, the SNP and Liberal Democrats criticised SPT's intention to appoint a permanent chief executive on the existing salary range.
Glasgow SNP councillor Graeme Hendry said it was "irresponsible and unjustifiable" in the current climate and the post should be temporary until SPT's future had been decided.
Scottish Liberal Democrat finance spokesman Jeremy Purvis described the salary as "ridiculous" and said a permanent appointment could result in a "yet another bumper payment to a quango chief" if SPT was disbanded.
The SPT chairman, Mr Findlay, however, believes it is premature to discuss the body's demise.
He added: "I still believe there is an important role ahead for SPT and there has been no official confirmation from any political party that they intend to abolish any of the seven regional transport partnerships across the country.
"There needs to be a serious alternative suggested if we go down that route."
Expenses scandal
The paper which went before SPT's recruitment board on Friday was seeking the go-ahead to appoint a permanent replacement for Ron Culley.
He stood down last year amid an expenses scandal, along with then chairman and Glasgow Labour councillor Alistair Watson and then vice chairman and South Lanarkshire Labour councillor Davie McLachlan.
The controversy erupted after it emerged that SPT officials claimed more than £100,000 in expenses between 2006 and 2009.
The organisation was criticised over foreign "fact-finding" trips by several officers and elected officials.
There were also questions about expense claims from officials who had organised a meeting with Greater Manchester Passenger Transport Executive on the day of the Uefa Cup final in 2008 between Rangers and Zenit St Petersburg.
Two subsequent reports criticised the culture and procedures at the transport authority.
In the wake of the scandal, Gordon MacLennan was appointed as interim chief executive.
He will now continue in post until a permanent replacement to Mr Culley is appointed.