Renfrewshire teaching hours 'cut' to be tested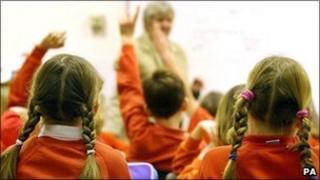 Plans to cut the teaching week at primary schools in Renfrewshire will be tested in all 49 schools from August, the council has revealed.
Registered teachers currently provide 2.5 hours of cultural, citizenship and sporting activities to pupils.
The council wants non-teaching staff to take on the role so it can cut 60 teaching posts and save £1.12m a year.
The pilot scheme will begin in August and involve all 49 primary schools in two stages between August and December.
Previously the council had planned for a pilot programme to run in four schools from April.
Primary teachers in Renfrewshire are to be balloted about industrial action over the plans.
'Enrichment programme'
Details of the proposals were put before the council's education policy board last month.
Under the new scheme pupils would continue to be taught by teachers registered with the General Teaching Council for Scotland.
In the remaining 2.5 hours children would work with other council staff on an "enrichment programme" of activities.
The EIS teaching union said parents and teachers would not be "fooled by the Council's repackaging of their proposals in a belated attempt to make them appear more attractive".
EIS General Secretary Ronnie Smith said: "Far from listening to the collective views of parents and teachers, Renfrewshire Council is now actually seeking to widen the scope of their proposals to include every primary school in the area.
"The end result of this would be a loss of 2.5 hours of teaching time for every single primary pupil in Renfrewshire, and an erosion in the quality of learning experience for every individual child."
Councillor Lorraine Cameron, convener of Renfrewshire Council's education policy board, said full implementation of the scheme would be delayed to January 2012 rather than August 2011.
She said: "Renfrewshire has to find £75m of savings in three years. This innovative proposal will save over £1m per year and avoid damaging cuts such as school closures or increases in class sizes."
Throughout the pilot scheme, teachers would be available in schools during the 2.5 hours worked by the education support staff to "address parental concerns about new employees coming straight into a classroom environment", she added.