Councillors approve Dovesdale 'waste energy' plant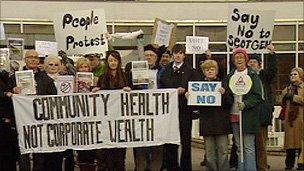 Councillors in South Lanarkshire have granted planning permission for a controversial waste-to-energy plant which attracted 20,000 objections.
Dumfries-based Scotgen will develop the "gasification" plant by Dovesdale, to create electricity from burning waste.
The firm claims the £50m plant could create 50 jobs but critics were concerned about toxic waste and road congestion issues.
Campaigners have pledged to continue their fight against the plant.
The council's planning committee approved the decision by 14 to nine.
A report which went before councillors stated: "The application has attracted a substantial body of objections and the recommendation is to grant planning consent.
"In accordance with council procedures, a hearing may be required prior to determining the application."
The authority said a number of factors had been taken into account, one of which was "the current deficit in recycling and resource recovery capacity in South Lanarkshire".
It also said the plant would create jobs and bring about a "94% diversion of waste from landfill".
In a statement, the council said the "lack of objection from the majority of statutory consultees, most notably, the Scottish Environment Protection Agency (Sepa)", had been a factor in its decision.
The council's planning permission to Scotgen is for land use only and the firm will still need to satisfy Sepa before it proceeds.
A spokesman for Scotgen told BBC Scotland that the company would now apply to Sepa for a licence.
Protesters have said they now plan to switch the focus of their campaign to the environment agency.
Dovesdale Action Group spokesman Gareth Jones claimed most people saw Sepa as the scapegoat in the planning process.
He said: "The recommendation would never have gone ahead to council had Sepa not withdrawn their holding objection.
"However, it is fair to say that quite a few councillors are hiding behind Sepa's decision, claiming that they have merely followed their guidance."
Aileen Campbell, SNP MSP for South of Scotland, said there was "massive disappointment" among campaigners who had opposed the scheme.
"South Lanarkshire Council has ridden roughshod over their own greenbelt policy, not to mention the opinion of the overwhelming majority of local residents who objected to this proposal," she said.
"Hundreds of people from across the south of Scotland have told me they don't want this facility to be built, and I reflected that in my own objection to the council."
Karen Gillon, Labour MSP for Clydesdale, said: "I am deeply disappointed that councillors on South Lanarkshire Council chose to ignore the voices of the 20,000 local people who objected to this development. They have let them down.
"This is a battle that has been lost and not the war."
Related Internet Links
The BBC is not responsible for the content of external sites.