West Dunbartonshire school evacuated in grenade scare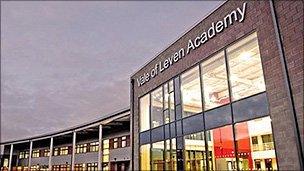 A school in West Dunbartonshire was evacuated for almost two hours after a pupil brought in what is thought to be a WWI hand grenade.
Police and a Royal Navy bomb disposal squad were called to Vale of Leven Academy, in Alexandria, at about 1110 GMT.
The grenade was removed and the school reopened just before 1300 GMT.
It is believed the pupil who brought in the device was working on a project and there was no malicious intent.
'Professional evacuation'
A statement from West Dunbartosnhire Council said: "Earlier today the Vale of Leven Academy was evacuated after a suspected hand grenade was brought onto the site by an unsuspecting pupil.
"Staff acted professionally to safely evacuate the pupils to adjacent playing fields, while emergency services investigated further.
"The suspected hand grenade was removed within two hours of the alarm first being raised and the pupils have now returned to class as normal. Teachers have praised pupils for their behaviour during this period.
"The council is grateful to the emergency services for their swift response to this incident."
Related Internet Links
The BBC is not responsible for the content of external sites.