Dumbarton uses fake shop fronts to beat downturn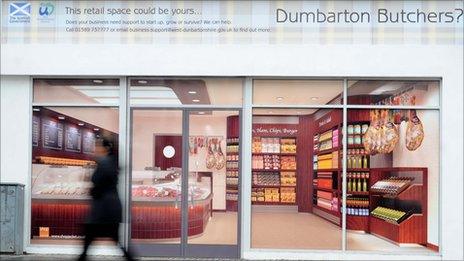 A town in the west of Scotland is to install fake shop fronts to disguise high street stores left vacant in the economic downturn.
The "shopjackets" in Dumbarton town centre give the impression that the stores are still occupied.
West Dunbartonshire Council believes the £20,000 pilot scheme will "improve the look" of the area and is a better alternative to boarded up shop fronts.
Two shopjackets already installed are a "butchers" and a new "deli".
The approach has previously been used in the north and west of England, with Whitley Bay seeing a 50% reduction in vacant shopfronts.
Jim McAloon, head of regeneration and economic development at West Dunbartonshire Council, said: "It is no secret that high street shops are struggling in the current financial climate, and across the UK it is estimated that around 13% of stores are vacant.
"Dumbarton has a proud history stretching back to its time as the capital of the ancient kingdom of Strathclyde. However, the rise of out-of-town shopping centres has threatened its commercial prominence.
"As a council we need to be on the front foot to do whatever we can to support our businesses and town centres, especially during these tough economic times.
"Boarded-up shop fronts or vacant stores can have an erosive effect on the high street, bringing down the appearance of the area for existing businesses and turning shoppers away."
Related Internet Links
The BBC is not responsible for the content of external sites.