Glasgow drug crime project 'saves society £10m'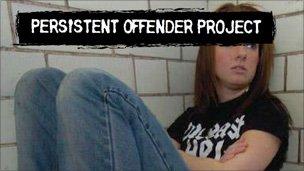 A project to cut drug-fuelled offending rates in Glasgow has saved the taxpayer more than £10m, it has been claimed.
The Persistent Offender Project offers intensive support and treatment to people with substance abuse issues who are regularly in trouble with police.
An evaluation has now concluded it helped record a 39% fall in estimated crime among those who took part.
It also claimed that for every £1 spent, the project delivered a £14 saving to society.
The project was set up in November 2006 by Glasgow Addictions Services and Strathclyde Police in a bid to tackle high offending rates.
Its performance over a three-year period has now been evaluated by the Scottish government's justice analytical services.
It found the 39% drop in repeat offending had saved taxpayers £10.8m.
This figure was estimated by calculating the costs which had been saved to the criminal justice system, including police, prisons, probation services, Legal Aid and the procurator fiscal.
The figure also includes wider social costs such as the physical and emotional impact upon victims, lost output and health costs.
The analysis said the saving compared favourably with the £763,000 spent on delivering the project.
Councillor Stephen Curran, chair of Strathclyde Police Authority, believes the project tackles "the clear link between addiction and crime".
"If you treat an offender's addiction, you begin to the break the drive to commit crime and thankfully Glasgow has a system which is making that happen," he said.
"In anyone's language a £10m saving is a lot of money, but more important is the growing respite the project offers to communities affected by drug-fuelled offending.
"Glasgow and everyone involved in this important project can take heart from its success."
The findings from the analysis of the impact of the project will be discussed at a conference in Glasgow's City Chambers on Wednesday.
Speakers at the conference will include Strathclyde Police Assistant Chief Constable Campbell Corrigan and Community Safety Minister, Fergus Ewing.
Related Internet Links
The BBC is not responsible for the content of external sites.