Glasgow University 'to cut courses' in cash-saving bid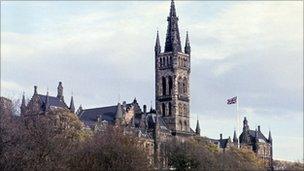 One of Scotland's leading universities is proposing to cut or merge courses in a bid to save £20m by 2013.
Glasgow University's senior management group has proposed dropping several modern language courses and merging history with archaeology and classics.
Under the plans, its Centre for Drugs Misuse Research would also be reviewed.
The university said its ruling body would shortly consider proposals for savings in response to "unprecedented financial pressures".
In a statement, the university said: "This university is responding in a planned and strategic way to the cuts in public funding. Our approach is two-fold: to generate more income, and to pursue cost-savings.
"After a senior management group review of all aspects of our work, the university court will consider a consultation being carried out into a number of academic areas.
"The areas affected have been identified within the context of the university meeting its strategic ambitions.
"This is to allow the university to strategically prioritise its activity and to maximise the quality of our teaching and research, so we can continue to be one of the world's great broad-based research intensive universities."
It is understood that the cuts being proposed to the academic programme would save about £3m.
In order to achieve the savings target, non-academic departments would have to find savings of up to 15%.
Glasgow University Court - the ruling body - will decide on what cuts to approve at a meeting in May.
The University College Union (UCU) said a voluntary redundancy scheme was already in place and any future action which led to compulsory job cuts would be resisted.
A statement from its Glasgow branch said: "Any consultation process must be based on more than simple economic information and must engage with all academic staff in the university as well as take on board the views of students and the wider community that the university serves.
"The university court will need to demonstrate that the consultation is valid and that no decisions have been made regarding the future of threatened areas.
"UCU members have demonstrated their willingness to defend colleagues threatened with redundancy in the past and would be prepared to do so again should the management group attempt compulsory redundancies."
Related Internet Links
The BBC is not responsible for the content of external sites.