Carbon capture schemes bid for EU cash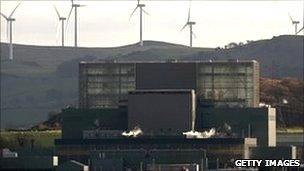 Two Scottish carbon capture and storage (CCS) schemes are bidding for European Union cash.
Ayrshire Power wants to use CCS technology when building a new coal-fired power station at the existing Hunterston site.
Scottish and Southern Energy (SSE) has also submitted a plan to develop a CCS project at its gas-fired power station in Peterhead, Aberdeenshire.
CCS technology would seek to remove carbon dioxide produced by the plants.
This would then be turned into liquid, using chemicals, and stored.
In the Aberdeenshire proposal Co2 emissions would be transported to an unused gas reservoir in the North Sea through an undersea pipeline.
The SSE project is being developed with oil giant Shell and the engineering firm Petrofac.
BP abandoned plans for a carbon capture plant at Peterhead in 2007, blaming UK government delays in support for its decision.
Ian Marchant, chief executive of SSE, said: "If long-term targets for reducing emissions are to be met, CCS technology must be applied as widely as possible.
"We therefore welcomed the UK government's decision to include gas-fired generation plant in its CCS demonstration programme.
"However, the development of a commercial-scale CCS demonstration project presents significant challenges and will require appropriate levels of support from both the EU and UK government."
Ayrshire Power has applied for EU cash through its sister company, Peel Energy Carbon Capture and Storage Ltd.
If the grant is secured, work on the new plant could begin in 2013.
Last year Ayrshire Power announced that it had formed a consortium to take the project forward.
It is now working with with carbon capture provider, Doosan Power Systems, an engineering and construction company, and oil and gas firm Petrofac.
An announcement on whether the funding has been granted is expected at the end of 2012.
Muir Miller, project director at Ayrshire Power, said: "With the formation of our consortium and our submission for EU funding we are now building momentum on the Hunterston project.
"Subject to the necessary approvals, we could begin work soon after a successful funding award."
The proposed new coal-fired power station in North Ayrshire has attracted numerous objections.
Campaigners have claimed the plant will harm wildlife and the environment.
Related Internet Links
The BBC is not responsible for the content of external sites.