Pilot unaware of plane evacuation at Glasgow Airport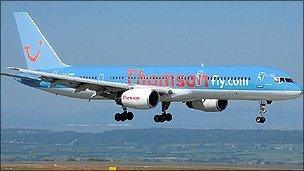 The pilots of a plane which landed at Glasgow Airport were "unaware" of an evacuation in which passengers were injured, a report has revealed.
A cabin crew member ordered the evacuation on the Thomson Airways' Boeing 757 in February last year after "a pungent burning smell" was detected.
An Air Accident Investigation Branch (AAIB) report said pilots were not aware until after the event.
It said the cabin crew member could have told them before taking action.
The report said a smell of smoke had been reported on the plane while it was flying to Glasgow Airport from Madeira, with 230 passengers on board.
The flight crew had been aware of the smell and the co-pilot had briefly left the cockpit during the flight to investigate but there was no visible smoke in the cabin.
Shortly after the plane landed, cabin crew members informed the senior cabin crew member that there was "a pungent burning smell" throughout the cabin and it was strongest in the rear of the plane.
The report stated that a senior cabin crew member went on to the flight deck to update the captain "but did not convey her concerns on the need to evacuate passengers as the flight crew were busy dealing with the incident".
The AAIB report said she then ordered an emergency evacuation over the passenger address system under the belief that the situation in the cabin was potentially life-threatening.
As there were no steps at the back of the plane, the cabin crew deployed the emergency evacuation slides at both rear doors and a total of 43 passengers exited via the slides.
The report said some passengers collided at the foot of the slide and four suffered minor injuries. Some were concerned about the "apparent lack of assistance" given to them once they had been evacuated.
It also noted that "the flight crew were not aware that an evacuation had been initiated until after the event".
The AAIB report concluded: "However, the flight crew were not incapacitated and it is evident that verbal communication with them would have been possible had the member of cabin crew persisted."
The electrical burning smell was later traced to the right re-circulation fan.
The report said Glasgow Airport had reviewed and amended its accident and incident communications, while Thomson had reminded cabin crew about circumstances when a non pilot-authorised evacuation can be initiated and of cabin crew's responsibilities for evacuated passengers.
Related Internet Links
The BBC is not responsible for the content of external sites.