Councils set out budget savings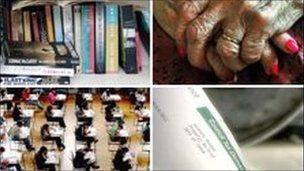 Glasgow City Council has approved a savings package of nearly £60m in the next financial year in an effort to address a shortfall in funding.
Steps include cutting £400,000 of funding for VisitScotland and saving £1m through refuse collection changes.
But it will also treble its planned roads maintenance budget to £12m to deal with potholes caused by harsh weather late last year.
Glasgow was among nine west of Scotland councils setting budgets on Thursday.
Glasgow City Council set its budget for 2011/12 at just over £1.3bn to match a reduction of 3.6% in funding from the Scottish government. The council said that meant it had to find an extra £13.5m of savings this year.
In 2010, it identified £40m worth in savings and started a three-year programme of job cuts affecting 2,800 staff, mainly through early retirement.
On Thursday, the authority agreed to spend £4m on creating 1,000 jobs for the long-term unemployed through the Commonwealth Jobs Fund, and to redirect £5m of funding to services for vulnerable children and homeless people.
Council leader Gordon Matheson said: "I've always made it clear that whatever final decisions we would be forced to make, the council's aim will be to continue to focus on our priorities of education and early years, targeted support for the vulnerable, and skills and the economy."
Other west of Scotland councils have also been announcing major efficiency savings and job cuts in an ongoing effort to balance their books.
South Lanarkshire Council has agreed to make £25m of savings after accepting a budget of £715m - nearly £10m less than last year.
The reductions will be met by a range of measures, including cutting 340 jobs, increasing some leisure charges and introducing fuel savings. Band D council tax will remain at £1,101.
Council leader Eddie McAvoy said: "We will strive with everything possible in our power to protect services and minimise the effect of cuts, but we must be realistic."
The council is making savings of just over £1.9m, which includes £400,000 on school meals and £750,000 on procurement activities.
It rejected proposals to close Garshake and Gartocharn nurseries, end free school milk and reduce free school transport.
Over the next two years, the authority is to make savings of nearly £23m across the council, with about half coming from efficiency measures including cuts in management and administration.
Councillors also accepted an £108m eight-year capital spending plan, which includes a new Eastwood High School, a new Isobel Mair School and a new college/library.
The budget includes £9m in efficiency savings, including £250,000 through primary school rationalisation. Band D Council Tax remains at £1,154.
Councillors also approved additional spending on roads of £1.5m for 2011/12, bringing total roads spending for the year to more than £10.5m.
Argyll and Bute Council said it would protect essential services, invest in roads infrastructure and continue supporting vulnerable groups in the community as it agreed its budget of £260m for 2011/12.
The council agreed to increase charges for its services and reduce budgets available for non-essential functions such as travel, subsistence, venue hire and advertising in an effort to release funds to protect frontline services.
Libraries in Tarbert, Cardross, Rosneath and Lochgilphead will remain open, although the mobile library service in Lorn will be removed.
East Ayrshire Council, which faced a budget shortfall of £8m, set its budget at £337m - £3m less than last year.
Council rents are to be increased and 167 posts are being shed - nearly 50 of which have already gone through voluntary redundancy.
However, a planned reduction in school transport provision was dropped, while breakfast clubs will also be retained on a "use it or lose it" basis.
Council leader Douglas Reid also announced the creation of a Business Enterprise Fund of up to £1m, designed to help school leavers become "business ready".
North Lanarkshire Council outlined plans for a package of major housing improvements as it set a budget of £777.5m, 2.6% lower than the current financial year.
The plans include a new-build programme of 500 houses at a cost of about £75m.
The council also agreed to increase rents by 1.5% in each of the next two years.
It had already agreed a series of savings last December designed to save £55m over the next two years, including 600 job cuts and plans to end free transport for secondary school pupils who live within three miles of their school.
This followed agreement across all political groups in December which identified £6.3m in savings.
Savings identified included reducing the number of commissioned places in early years partnership centres and a review of homecare and sheltered housing provision.
The council also agreed to press ahead with plans to move halls to community management models rather than close them.
Inverclyde Council, which received a cash reduction of 3.7% from the Scottish government, agreed to press ahead with its target of delivering £22.8m of savings over three years.
About £12.8m of these savings have already been achieved, with a further £2.6m expected to be realised by March 2011.
The council also agreed £1m of investment for the regeneration of Port Glasgow town centre and an initial commitment of £500,000 for the renewal of the Clune Park area.
Renfrewshire Council, which will meet next week, is continuing efforts to achieve savings of £75m over three years, with 600 posts expected to go in 2011. The council has ruled out any school closures before the council elections in 2012.
Last week, North Ayrshire Council set its budget, agreeing several measures including £8.9m worth of efficiency savings.
Related Internet Links
The BBC is not responsible for the content of external sites.