Letter to Glasgow asylum seekers 'inhumane' say MPs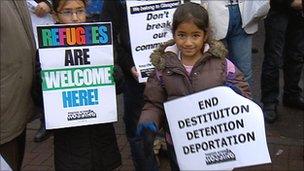 A cross-party group of MPs has branded the UK Border Agency "inappropriate at best and inhumane at worst" over its treatment of asylum seekers in Glasgow.
The Scottish Affairs Committee said the termination of a contract with Glasgow City Council for the housing of asylum seekers had been mishandled.
This saw more than 1,000 people told they may have to move house in days.
The committee said Immigration Minister Damien Green had responded speedily by recognising the error and apologising.
Hundreds of people protested in Glasgow after the UK Border Agency (UKBA) cancelled a contract with the city council to provide temporary housing for asylum seekers after they failed to agree on costs.
More than 600 families received letters warning them they could be re-homed, prompting the charity group, Positive Action in Housing (PAiH), to describe the move as "utterly shameful".
Last month, while appearing before the committee, Mr Green conceded the letter had caused distress.
He said the asylum seekers affected were due to be sent a further letter, as accommodation contracts with new providers were due to be entered into by March.
In its report into the matter, the committee concluded that the UKBA's handling of the issue had been "inappropriate at best and callous and inhumane at worst".
It said the lack of firm contingency plans at the time the contract was terminated was "to be regretted".
The committee also said it remained unclear about issues around costs and savings, as well as being unable to clarify the complete financial situation around the accommodation contract.
Ian Davidson MP, chair of the committee, said: "A lesson in communication mismanagement has been amply demonstrated by UKBA in its handling of this case.
"We must not underestimate the distress and upset caused by UKBA's actions.
"However, we are reassured that the minister acted speedily and it is now important to look forward. A number of issues surfaced during our short inquiry which we feel require further examination and we plan to hold hearings on these in due course."
Related Internet Links
The BBC is not responsible for the content of external sites.