Men admit charge over heroin haul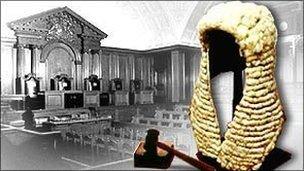 Two men are facing lengthy jail terms after being caught with £1.5m of heroin and £160,000 of cocaine in Glasgow.
William Henderson, 47, and 40-year-old Stephen Rollo were arrested after the drugs were found in an industrial unit in the city's Dalmarnock area.
At the High Court in Glasgow, both men admitted to being concerned in the supply of heroin and cocaine between 1 and 14 October last year.
Judge Lady Clark remanded them in custody until sentencing next month.
The court heard how police initially carried out surveillance on Henderson, who was the lease holder of the industrial unit.
Henderson and Rollo were later spotted travelling to Carlisle, where a black box was put into a white van.
The van was later stopped by Lancashire Police and the box was found to contain £125,000 in cash.
On 14 October, Rollo was seen removing items from the unit into a van belonging to Henderson.
Police raided the industrial unit and Rollo unsuccessfully tried to escape. They then recovered keys belonging to the premises.
The court heard that £1,027,775 of heroin was found in the van along with £160,960 of cocaine.
The unit was searched and a total of £462,305 of heroin was discovered there.
The court was told the total amount of heroin was the largest ever recovery in the Strathclyde area.
Detectives found a host of items used to prepare and package drugs, including a hydraulic press.