Bogus workmen rob Renfrewshire OAP of life savings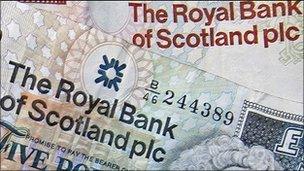 Police are hunting three bogus workmen who robbed an 87-year-old man in Renfrewshire of his life savings.
They arrived at the pensioner's Linwood home at 1540 GMT on Thursday, claiming they wanted to check his water.
One man produced identification. Another man then kept him talking while the other two searched his house.
It is understood that a "substantial sum of cash" was taken. Police have appealed for help in tracing the men responsible for a "despicable crime".
The suspects are described as white and they spoke with an Irish accent.
The first suspect is said to be about 6ft (1.8m) in height, with red hair. He was wearing a black shirt and black trousers.
The second suspect is described as 5ft 9in to 5ft 10in tall (1.7m to 1.8m), with dark hair. He was wearing dark clothing.
The third suspect was wearing blue jeans and a bomber jacket.
Police want to trace the occupants of a white Ford Transit pick-up type van which was seen in the area a short time before the robbery.
It is believed to have travelled in the direction of the A737 afterwards.
Sup George Nedley, of Strathclyde Police, said: "People who commit these types of crimes are despicable.
"They have absolutely no conscience and don't think twice about swindling the most vulnerable members of our communities.
"This man has lost his life savings and those responsible will have no hesitation in targeting other victims.
"They are devious and could potentially target anyone no matter what age - young, middle-aged or elderly. It is vital that they are traced."
Officers have been carrying out door-to-door inquiries in the area to see if anyone else was targeted.
Related Internet Links
The BBC is not responsible for the content of external sites.