SPT delays chief executive appointment for six months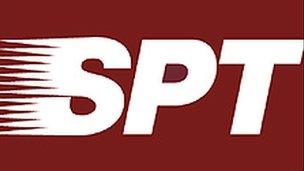 A transport authority which was mired in an expenses scandal has postponed hiring a new chief executive amid political uncertainty over its future.
Strathclyde Partnership for Transport (SPT) voted to continue the appointment of its interim chief executive, Gordon MacLennan, for a further six months.
It follows claims by critics that SPT should offer a fixed-term contract only and cut the salary of up to £136,000.
The body lost three top officials last year following a scandal over expenses.
SPT chairman, Jonathan Findlay, said: "SPT's cross-party partnership committee took a unanimous decision today to extend the current interim arrangements for a chief executive/assistant chief executive for six months.
"The committee agreed that an election on the horizon and continuing political uncertainty as to the future operation and function of regional transport partnerships, along with the current financial climate, needed to be taken into consideration."
Related Internet Links
The BBC is not responsible for the content of external sites.