Thousands protest over Glasgow University 'course cuts'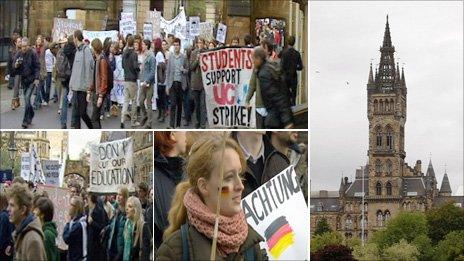 More than 2,000 people have attended a protest march at Glasgow University over plans to cut or merge courses.
The rally was held before the ruling university court approved a consultation on proposed cuts designed to save £20m over the next three years.
Critics accused university management of trying to reshape the institution into a smaller money-making enterprise at the expense of academic quality.
The university said it had to respond to "unprecedented financial pressures".
At Wednesday's meeting, the university court, which is made up of senior management, discussed plans to drop several modern language courses and merge history with archaeology and classics.
The future of the university's Centre for Drugs Misuse Research is also under review.
The university said last year that it was facing a £35m shortfall over the next three years.
It claims to be on target to generate an extra £15m in income from overseas students but this still leaves a deficit of £20m to be addressed by savings.
The cuts being proposed to the academic programme would, it is claimed, save about £3m in 2010/2011.
Additional savings of £10m and £7m would then be needed in the following two years.
In a statement, the university said: "This university is responding in a planned and strategic way to the cuts in public funding. Our approach is two-fold: to generate more income, and to pursue cost-savings.
"The areas affected have been identified within the context of the university meeting its strategic ambitions."
The university court has now approved the consultation which will run until May, when a final decision is due.
Among those who attended the rally on Wednesday was Students' Representative Council vice-president Fraser Sutherland.
He said there was shock and anger among undergraduates and post graduates alike.
He said: "Those from the areas where cuts have been proposed - nursing and modern languages - they are shocked and very angry - but other students are looking at this and thinking, what next, where next?"
"These are areas which should actually be invested in more, not less."
Science graduate Mr Sutherland, 22, said: "If you want to create trade with other countries for example, we've got to have people with language skills."
He added: "The turnout has been absolutely fantastic. We've had students from almost every department.
"But if the senior management group don't drop these proposals and we do have to continue the protests, then we'd encourage even more students to turn out.
"It's a campaign to save the multi-disciplinary approach that Glasgow has had for hundreds of years."
Earlier, David Anderson, a lecturer at Glasgow University and member of the University and College Union (UCU), accused the university of using budget issues to make "strategic" closures of academic departments.
"The university has instigated a series of cuts through a voluntary severance scheme which has been running now since the turn of the year," he said.
"Around 200 people have already come forward to leave the workforce, so, that will make significant savings and goes a long way towards the £10m target the university has for next year.
"These department closures are strategic in the university's own terms and aren't really part of the cost-saving exercise."
Other academics and students, who have contacted the BBC, accuse the university of pursuing a hidden agenda.
One said the proposals were designed to re-shape the university into a "small, money-making machine at the expense of academic quality and diversity".
It has also been pointed out that the university is continuing to recruit at a time when there is a budget shortfall and while giving staff the option of voluntary redundancy.
Related Internet Links
The BBC is not responsible for the content of external sites.