Woman who killed 'friend' in Blantyre gets 10 years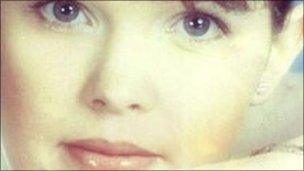 A woman who stabbed a mother-of-four to death on a street near her Lanarkshire home has been jailed for 10 years.
Charlene Wilson, 25, was convicted of the culpable homicide of Gail Russell, who she later claimed was her friend.
The 26-year-old bled to death following the attack in Blantyre last June.
Wilson's co-accused Thomas Gibson, 29, from Blantyre, was jailed for nine months and Aaron Black, 22, from Motherwell, received an 11-month sentence for breach of the peace.
The court heard the trio had gone to Ms Russell's home in Small Crescent because Gibson and Black wanted to confront her boyfriend.
The men were carrying a knife and sword and Wilson, who was armed with a knife, said she went along "to show off".
Neighbours described seeing her pull a knife from her waistband and fatally wounding Ms Russell, who had four children aged, 10, seven, five and three.
The victim chased after Wilson for a few moments but collapsed in the street and died later in hospital.
Wilson, who had also been living in Blantyre, was originally charged with murder but a jury found her guilty of the lesser charge of culpable homicide.
At the High Court in Edinburgh, Judge Lord Brailsford told her: "I cannot ignore the fact that your actions resulted in the death of a young person and you must bear the consequences of that terrible act.
"You went to the address in Blantyre that evening armed and became involved in a confrontation.
"You went armed and in those circumstances the tragic outcome had a terrible air of predictability."
The judge said he accepted that Wilson had "a most unfortunate upbringing" and seemed to have been deprived of love or care during her early life.
He added: "I also take into account that you expressed remorse almost from the outset in these matters."
Wilson's solicitor Ally Murray said: "She appreciates the devastating effect of her behaviour on Gail Russell's family and in particular on her children over the many years to come."
Related Internet Links
The BBC is not responsible for the content of external sites.