Glasgow man jailed for New Year stabbing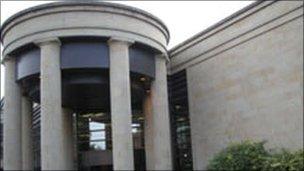 A man who plunged a 10in knife into the neck of another man on New Year's Day has been jailed for nine years.
Ross Millar, 23, attacked Scott McNeill after the 39-year-old knocked on his door in Glasgow's Maryhill area in the early hours of 1 January 2010.
Mr McNeill had earlier asked Millar to leave his ex-girlfriend's home.
Millar was convicted of attempted murder at the High Court in Glasgow. He was also ordered to serve a two-year extended sentence after his release.
The court heard how Mr McNeill received a phone call from his former girlfriend in the early hours of 1 January.
Michelle Golding asked him to come to her flat in Glenavon Road, Glasgow, and help her to remove neighbours Millar and his father from her home.
Mr McNeill did so and minutes later left the flat himself. On his way home he called in at the Millars' flat and knocked on the door to ask them not to return to Ms Golding's flat.
Millar answered the door with a large knife in his hand and plunged it into Mr McNeill's neck.
Ms Golding raised the alarm after Mr McNeill managed to get back to her flat.
The court was told that the blade went into the left-hand side of his neck and ended up in his right lung, missing every vital organ and blood vessel on the way.
Doctors who treated Mr McNeill, from Glasgow, were amazed that he survived the attack.
He spent three days in hospital before being released.
Before sentencing, Judge Lord Matthews told Millar: "What you have been convicted of is a very serious offence.
"As the doctor said, the victim is extremely fortunate to still be alive."
Related Internet Links
The BBC is not responsible for the content of external sites.