Justice of the Peace resigns over knife crimes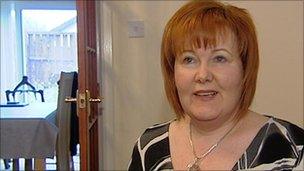 An Ayrshire Justice of the Peace has resigned her post to campaign against knife crime following the murder of a teenager who was stabbed to death.
Reamonn Gormley, 19, died in hospital after being attacked in Blantyre, South Lanarkshire, on 1 February.
Caroline Johnstone said his murder was the tipping point in her decision to resign.
She said she could not work for a justice system that was "flawed".
Ms Johnstone told BBC Scotland she had been met with an overwhelming response from the public who were "heart-sick" with the justice system and who wanted to see "effective policies when it comes to knife crime".
She continued: "The main reason I have given it up is I couldn't sit and administer justice in a system that I thought was actually fundamentally flawed.
"There is legislation on the books that says somebody can get up to four years [for carrying a knife], but I would like somebody to show me where that has actually happened. For me, it is a zero tolerance policy with knives that we need to have.
"What is it going to take for people who can make a difference to listen?
"Is it going to take a politician's son or daughter to get murdered or a judge's son or daughter to get murdered?"
She added: "What we need is for the politicians to sit up and listen and the judges to sit up and listen, then to work together to put something together that actually works.
"Maybe my resignation, that fact that I am a justice and feel so frustrated, can have the impact that maybe something else won't have."
More than 800 mourners attended Mr Gormley's funeral service in Blantyre on Saturday.
Two men have been charged with the student's murder.
Related Internet Links
The BBC is not responsible for the content of external sites.