Oil worker trapped in Libya 'desperate for rescue'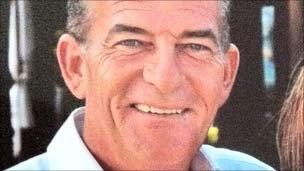 A Scottish oil worker stranded with 300 people in a Libyan desert camp has told how the group has just one day's supply of food and water left.
James Coyle, from Erskine, Renfrewshire, said the workers were "desperate" to be rescued.
They have been trapped for a number of days, since protests in the country turned to violence. About 300 people have been killed in the uprising.
"We are living every day in fear of our lives," Mr Coyle told the BBC.
Armed looters have already ransacked a nearby camp, forcing German workers to join them. Mr Coyle said this had tripled the number the camp usually provides for.
In a radio interview he said the oil workers, who are about two-and-a-half hours from Benghazi, could not get to the airport and the UK government was ignoring their pleas to be rescued.
"We have been left without any protection whatsoever," he said. "The looters are local people armed with AK47s.
"We are living a nightmare."
Mr Coyle said locals had raided the camp next door and taken vehicles, all the food and even fridge freezers.
As a result the oil workers there had been forced to move into his camp, bringing the numbers up from 100 to 300. Mr Coyle said he estimated that about 90 people in the camp were British.
"We have had to take in the Germans and other nationalities from next door as their camp has been wrecked," he said.
"We have very little food and water, maybe enough to last one day."
Mr Coyle added that conditions in the camp were deteriorating.
"It's getting very difficult here," he said. "We need a Hercules in now to get us out."
A Foreign Office spokesman said: "The safety of British Nationals in Libya is of paramount concern. We are doing all we can to help them, including those in camps.
"We are continuing to work up contingency plans to deal with what is a very difficult, testing and fluid situation.
"We recognise the genuine and real distress of those who are in camps in the desert, not least since it is difficult to travel to Tripoli.
"Our priority is their safety so we are advising them to stay put if they are safe where they are at the current time."
The spokesman added that the Foreign Office was pressing the Libyan authorities to re-open the military airport to help companies evacuate staff.
Related Internet Links
The BBC is not responsible for the content of external sites.