Teenager detained over Glasgow street stabbing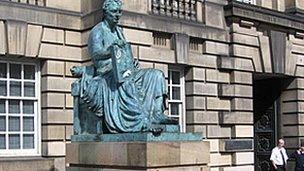 A teenager who leapt from a car driven by his mother to stab another youth has been detained for four years.
Ryan Smith, 16, from Cardonald, Glasgow, admitted assaulting the 15-year-old boy to his severe injury on Paisley Road West on 17 September 2010.
Smith stabbed the boy in the chest and thigh before returning to the car and telling his mother to drive on.
At the High Court in Edinburgh, Smith was ordered to be supervised for a further five years after release.
The court heard how Smith, who is being held in a secure unit, was a passenger in the car driven by his mother along with others.
When it passed a bus stop where his victim was standing he shouted on her to stop.
He and his accomplices then jumped out of the moving car and ran over to the bus stop to attack the boy.
The teenage victim managed to break free and staggered away before collapsing.
Smith and his accomplices then returned to the car and he told his mother to "hurry up and drive".
Judge Lady Smith told Smith that she was informed he had been involved in "territorial feuds" for a number of years.
She said the latest offence came against "a background of a depressing history of anti-social and criminal behaviour".
"The use of knives in assaults can result in death and if not death, then serious and often lasting injury," she said.
"Treating the victims of such attacks places a wholly unnecessary and avoidable burden on the health service."
The judge told Smith that he would have received a five-and-a-half year sentence for the knife attack, but it would be reduced to four years and a month following his guilty plea.
She also ordered he should be kept under supervision for a further five years after he was assessed as posing a high risk of reoffending.
Related Internet Links
The BBC is not responsible for the content of external sites.