Sheep found hanged with dog lead in Cleland field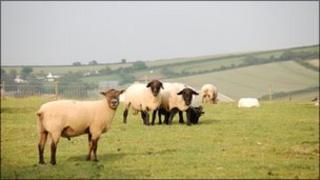 A sheep has been found hanged by a dog lead and two others mauled to death in a field in Cleland, North Lanarkshire.
Three people with two dogs are reported to have been in the area, near Glen Noble, on Saturday afternoon.
Police were called to reports that one person was seen hitting the animals with a stick between 1300 and 1640 GMT.
They found one sheep hanged on a fence at the bottom of the field. Two others were dead and another seriously injured from bite marks to their neck and body.
'Disgusting crime'
PC James Ruddell, from Strathclyde Police said: "This is the first time I have ever heard of helpless sheep being violently attacked like this.
"Sheep are generally mild-mannered animals that form an important part in a farmer's life and business.
"It is most important that we find the people responsible for this disgusting crime and prevent them doing this again to other animals and pets."
PC Ruddell appealed for anyone with information on the crime to contact police.