Glasgow Caledonian University pay gap 'disgraceful'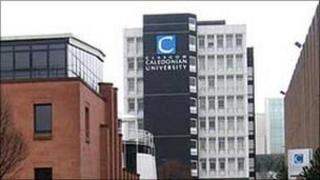 An MSP has called on Glasgow Caledonian University to explain "disgraceful" levels of management pay at a time of cutbacks among staff.
Bill Kidd, SNP member for Glasgow, said top staff numbers had trebled and their salaries doubled in the past four years while teaching staff had fallen by 100.
His comments come ahead of a planned rally against cuts on Wednesday.
The university said that 70% of the university's highest paid staff were academics.
Mr Kidd's comments came after Glasgow Caledonian Combined Union Committee (CUC) highlighted salary figures from the university's annual accounts.
The committee said that since 2006, 373 teaching and support jobs had been lost mainly through an extended voluntary redundancy scheme.
It said that over the same period higher paid staff, who earn more than £70,000 per year, had increased from 13 to 41.
The committee said that among the university's top earners, nine people were paid more than £100,000, four people were paid more than the first minister and three paid more than the prime minister.
Mr Kidd said: "The numbers now at executive level and the levels of salaries being paid to them whilst the numbers of academic and other staff grades are showing real reductions is nothing short of disgraceful and need to be highlighted and explained.
"I would want the principal and the board of Glasgow Caledonian University to explain their direction of travel in delivery of education where the numbers of executive staff has trebled and their salaries doubled, whilst the teaching staff has fallen by 100 in the past four years."
Glasgow Caledonian CUC plans to hold a rally on Wednesday against any future cuts in staff and resources.
Committee convener, Dr Nick McKerrell, said: "University staff have witnessed a steady cutting of staff numbers in the last five years. More than 300 of our colleagues have gone and not been replaced. This was deemed to be necessary because of public sector cuts.
"However, as we have discovered, using public funds the number of highly-paid management in the same time period has gone through the roof.
"Questions need to be asked about how this has been allowed to happen. We need a redistribution of public money within Caledonian."
A spokesman for the university said: "Like others in the higher education sector, staff at Glasgow Caledonian University have benefited from substantial nationally negotiated pay rises in recent years - lifting a significant number into a pay bracket of over £70,000.
"To say that the university management have benefited at the expense of other staff is incorrect and misleading."