Ruling paves way for sex criminals to appeal sentences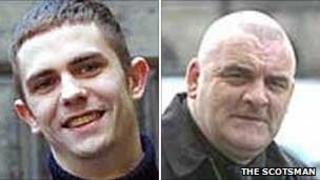 A landmark legal ruling has cleared the way for people serving life sentences to challenge the length of time they must spend in Scots jails.
Appeal judges have overruled previous guidelines for setting the punishment part of discretionary life sentences and orders for lifelong restriction.
It follows appeals by rapist Robert Foye and paedophile Morris Petch.
They will now have their cases settled under earlier guidelines, which could see their minimum terms being reduced.
Appeal judges who made the ruling have now called on the Scottish Parliament to intervene with "a clear, well-considered legislative solution".
A specially convened bench of seven judges at the Court of Criminal Appeal in Edinburgh dealt with the legal challenges of Foye, 31, and 54-year-old Petch.
Foye was given a life sentence - an Order for Lifelong Restriction - and ordered to serve a minimum of nine years after raping a teenage girl when on the run from an open prison.
A discretionary life sentence was imposed on Petch and he was ordered to serve at least 12 years before he could seek parole after raping girls aged between eight and 11.
The pair raised appeals which required the judges to consider how a punishment part - the minimum term to be served before becoming eligible to seek release on parole - of a discretionary life sentence was set.
The case involved the interpretation of the Prisoners and Criminal Proceedings Act 1993 and subsequent amendments and the 2003 case of Ansari v HM Advocate.
In their ruling, the judges were split but a majority decided that the Ansari case should be overruled and courts should instead follow an earlier appeal court ruling relating to a 1999 case - O'Neill v HM Advocate.
The effect of this is that different sentencing guidelines should be followed until such time as the Scottish Parliament introduces new legislation.
Essentially, a majority of the appeal judges disagreed with the guidelines established in the Ansari case.
These guidelines allowed courts to set the punishment part of a sentence at two-thirds or more of the determinate sentence for the crime by building in a public protection element.
In Petch's case, his determinate sentence was 18 years and his resulting punishment part was 12 years. With Foye, it was 13 years and nine years respectively.
The appeal judges decided, however, that the issue of public protection should be decided by the parole board.
Public protection
Consequently, they ruled that courts should now follow the O'Neill guidelines, whereby the determinate sentence is identified, the public protection element stripped out, and a 50% reduction applied.
The appeals of Petch and Foye will now be sent to three judges to consider following the judgement, which could result in their minimum terms being reduced.
A spokesman for the Scottish government said ministers were aware of the judgement.
He said: "Its one effect is that some life prisoners may be able to apply for parole earlier than previously had been the case, but it is still absolutely the case that any life prisoner who the parole board considers the public need to be protected from will remain in prison.
"We are also considering whether changes to primary legislation are required to address the issues raised in the judgement, because in all circumstances punishment of the guilty as well as public safety, is paramount."